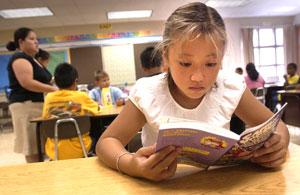 Learning the A-B-Cs of English might be a rite of passage for those born in America, but for many foreigners arriving later, mastering it takes some work. Among McLean County residents, nearly 9,000 identified themselves as not speaking English in census data, said Christy Post, Heartland Community College's director of adult education.
Of those residents, more and more are taking on English, she and other teaching experts say.
Enrollments in both children and adult programs for English language learners, also called English as a second language, are steadily climbing each year.
Adults can take classes at Heartland or a variety of local sites that the Regional Office of Education oversees.
The government requires schools to screen students, to determine English proficiency, said Teresa Hill, District 87 assistant superintendent.
"Kids can fall behind without this additional instruction. By having these programs, we're investing in the future of this country," said Colleen O'Dea, a bilingual teacher at Brigham Elementary School.
"Teaching kids in their native language is the quickest way to English. If we arrest development of their native language it limits their future growth with English" said Debbie Armendariz, Bent School principal, and head of District 87's bilingual program.
In District 87, English as a second language numbers began to really grow about four years ago, said Armendariz. But numbers have become ore steady recently, she said. For this school year, she expects nearly 200 ESL students.
District 87's bilingual program is based at Bent, but its other English language learners are at Oakland and Stevenson elementary schools, she said.
In Unit 5, educators expect about the same, nearly 200, said Jim Braksick, assistant superintendent. However, Unit 5's growth has been more recent. Growth precipitated the district's move last spring to move ESL classes from Sugar Creek to Oakdale Elementary. Also, Spanish speaking grade school students area will be based in a bilingual program at Brigham Elementary.
Jonathan Ontiveros, 9, will start fourth grade this fall at Brigham?s bilingual program. On Thursday, he worked with about 20 kids his age improving English skills at Parkside Elementary School.
"I'm reading Martians Don't Take Temperatures," he said pointing to The Adventures of the Bailey Kids series title he'd chosen. "They think the nurse is a Martian," he said.
Jonathan has been in Unit 5's ESL program three years. And his English is easy to understand. "My mom and dad work a lot. I've been trying to help my mom with her English," he said. Soon, he'll likely transition into a normal Unit 5 classroom.
"The basic rule of thumb is they'll learn social English in about two years, but to be fluent in academic English takes five to eight," said Connie Schroeder, who teaches in Unit 5's English language program at Oakdale.
She's seen large groups of Vietnamese, Russian and Congolese students in recent years, she said. A Russian adoption program active in Central Illinois has added the increase in that population, she said.
"The kids communicate with themselves," said Schroeder, noting it develops a sort of tutoring system.
Nghi Nguyen, 10, said she was about 4 years old when she moved to California from Vietnam. She remembers there being more motorcycles in the South Asian country than here, and she said kids had to work. "So, I'm lucky to be in school," she said. Now her father's at Mitsubishi, so she's in Central Illinois.
Soon, the students lined up for a spelling bee game led by teachers Donna Sliney and Lupe Granados.
"The idea is to expose them to as much language arts as possible," said Eric Swingler, who heads Unit 5's summer English language learning program. During the school year, he's a fourth grade teacher at Northpoint Elementary.
About 150 K-12 students took part in the one-month program. Meeting Monday through Thursday mornings, the students practiced speaking, writing and reading English.
The grant-funded program also provided breakfast, and bus transportation to and from the program, for the youth.
For younger kids, the Regional Office of Education incorporates English learning into its Evenstart parenting class, said Joyce Fritsch, director. Bent School is teaming up with her this fall to offer that at Bent.
Fritsch saw a huge jump in her office's services for English learners in the 1990s, when Mitsubishi began its Normal plant. Enrollment back then piqued around 400. But in recent years numbers hovered around 200 and are steadily climbing again, she said. In 2005-2006, they taught 281 students.
The regional office is recruiting students for its fall classes, which begin Aug. 28. The office serves Dewitt, Livingston and McLean counties. Fritsch is working to enroll students for the office's GED classes as well, she said.
Though Fritsch encourages residents to join at the start of English class, the curriculum is set up so anyone can join at anytime, she said.
"We have an open-door policy," she said. The office has tried to build course schedules that accommodate people who often only have an hour or two between work shifts for multiple jobs.
She said while Spanish speakers do make up nearly half the students, the others are varied.
"In a class of 20, we could have 15 languages," she said. African and Indian dialects, as well as Asian languages also are common, she said.
The languages arriving in her classes change from year to year, often reflecting political unrest and refugee situations, she said. "Mongolia, Cameroon, Congo, Guatemala, El Salvador - I always know the hot spots in the world," said Fritsch.
Heartland Community College taught English language to 82 students in 2002-03. It had reached 152 by the following year, and by the 2005-06 school year, that number has jumped to 287.
About 42 percent of last year's students were Spanish speakers, said Christy Post, the campus' adult education director.
HCC draws adult English learners from Vietnam, China and Japan, as well as India and several African nations too, she said.
"We've seen a real increase in Congolese, for example," she said.
Like Fritsch, Post said adapting class schedules to meet the immigrant population's work schedules has been a must.
"So many work one or two jobs, we found adding a Saturday class was popular," said Post.
About 30 students signed up for a Monday and Wednesday evening HCC course taught this summer by Shenny Cruces and her assistants.
Dressed in traditional Indian saris, Alpa Patel, 17, and her sister-in-law Shitul Patel, 24, sat Wednesday night at desks in a Heartland Community College classroom.
The women, who speak both Hindi, and their regional language of Central western India - Gujarati, were writing out English sentences.
"When a good time to visit the city?" wrote Alpa Patel.
"That's good, but put an "is" right here. "When is a good time to visit the city?," coached tutor Bonny Ficek, of Hudson.
Shitul Patel, who's been here two months along with her husband who is an Illinois State University graduate student, said she likes the class and tries to practice at home every day.
Alpa Patel wants to learn English, and then keep going.
"After English, maybe I'll enroll in Heartland," she said.
This week, the HCC class is planning a community event for Wednesday. The International Culture night allows them to showcase language, music and cuisine from around the world said Cruces.
"We'll have henna tattoos and some of our advanced student will be reading children?s books from around the world," she said.
Zahra Baha, 48, of Bloomington, was a teacher in Afghanistan for 12 years before Soviet rule and later Taliban terror sent her running for Pakistan.
"The Soviets made all the textbooks be in Russian, and then the Talib said Arabic," she said. But Baha and her students spoke Farsi, a Persian dialect.
Eventually, she arrived in the Midwest after her sister sponsored her for a visa.
She remembers moving to Bloomington and relying on neighbors? advice to get around. Color-coded city buses helped her immensely before learning some English, she said.
Now, between her work at Avantis kitchen, she's been working on her English at a variety of English language learner classes.
Classmate Gennadiy Stryzhak, 50, of Bloomington, could relate to frustrations before learning some English.
The Ukranian, who moved here about three years ago, remembers visiting a doctor. "With no English it's really difficult to communicate," in such situations, he said.
Stryzhak hopes to take more English at Heartland this fall.
What: International Culture Night: Around the World in One Evening
When: 6:30 to 8:30 p.m. Wednesday
Where: Heartland Community College, Community Commons Building, Room 1407
Details: Music, food, storytelling and cultural exhibits geared toward the whole family.
SOURCES: Christy Post; Shenny Cruces; Compiled by Michele Steinbacher
All classes are free and begin Aug. 28, unless noted.
- Heartland Community College: Beginners and Intermediate I meet 6-9 p.m. Mon.-Wed.; Intermediate II and Advanced meet 6-9 p.m. Tues.-Thur.; Multilevel meets 9 a.m.-noon Tues.-Thur. or Saturday; American pronunciation meets 6-8 p.m. Mondays, Oct. 2-Nov. 20 and costs $79.
- Regional Office of Education classes: 9-11:30 a.m. Mon.-Thur. at Wesley United Methodist Church, 502 E. Front St., Bloomington; Normal Public Library, 206 W. College Ave., Normal; and Trinity Lutheran Church, 801 S. Madison St., Bloomington (Even Start program provides English lessons for preschoolers).
Also, 9-11:30 a.m. Mon., Wed. and Thur., St. Luke Union Church, 2101 E. Washington St., Bloomington; 12:30-3 p.m. Mon., Wed. and Thur., Normal Public Library, 206 W. College Ave., Normal; 4-6 p.m. Mon.-Wed., Illinois Education Association, 304 S. Eldorado Road, Bloomington; 4-6 p.m. Tue.-Thur., Bent Elementary School, 904 N. Roosevelt Ave., Bloomington; 6-8:30 p.m. Mon.-Wed., The Meadows mobile home park, 102 Filbert Drive, Bloomington; 6:30-9 p.m. Mon.-Wed., St. Luke Union Church, 2101 E. Washington St., Bloomington.
Info: (309) 888-9884 (English and en espanol)
English lessons for school children
- Federal and state laws require school districts to screen children who speak more than one language for English proficiency, though parents may sign waivers to excuse children from extra English lessons.
- Information is available from individual school districts. At Unit 5, the ESL director is Jim Bracksick, assistant superintendent of curriculum. At District 87, the ESL director is Debbie Armenderez.
SOURCES: Regional Office of Education, Heartland Community College, Unit 5, District 87; Compiled by Michele Steinbacher