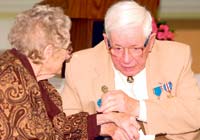 MONTICELLO - It's not every day someone honors an enemy as a hero. It's even rarer when the honor comes more than 60 years later. But, that's what happened Monday when a representative from the military attaché office of the Italian Consulate in Washington, D.C., arrived in Monticello to present the Italian government's Medal of Valor to Dwight "Steve" Varner for what he did during World War II.
"I'm very happy. I never thought I'd live this long," said Varner, 88, the father of Eric Varner of rural Carlock. "I'm feeling good about it, but it's much ado," he said, adding the media attention makes him uncomfortable.
The former U.S. Army lieutenant previously received a Silver Star, a Distinguished Service Cross and two Purple Hearts with a cluster for heroism while serving with Gen. George Patton's armored division in northern Africa.
"His background in the military is fascinating," said Mary Jo Hetrick, economic development director for the city of Monticello, which hosted the awards ceremony at the town's community building.
Varner said the Italian honor stems from a day he was commanding several tanks. A large number of Italian soldiers - estimated at several hundred - walked toward the tanks and surrendered. Shelling was intense. Varner made it a point to move the prisoners out of harm's way. He let them keep personal belongings, taking only binoculars his men needed to spot the enemy in the distance.
It's one of many war stories that sound like the script of a Hollywood movie, starting when an enemy plane torpedoed Varner's ship on the way to Africa. Knocked unconscious, Varner awoke to find most of the soldiers already on other ships. He went below deck and saw the sea pouring through a gaping hole. He and volunteers restarted the ship's engines and sailed to a friendly port.
Two tanks - Fighting Illini and the Fighting Illini II - were destroyed while he was onboard. On another occasion, he was credited with pulling wounded and dead soldiers away from a burning half track.
He suffered seven concussions in different battles. An exploding round once left him temporarily blind and deaf. He spent several days in a hospital before talking doctors into letting him return to his unit because several other officers had been killed or wounded.
He led his troops with the help of soldiers who served as his eyes and ears.
Eventually, Varner was taken prisoner after a shell pierced the side of his tank. Miraculously, it did not cause a fire. He helped another soldier away from the wreckage and the gasoline-covered ground. Germans arrived and took them prisoner. But they escaped and hid in a wheat field to avoid being seen by airplanes and by German soldiers who walked within 20 yards of them, he said.
Later, armed with a spoon in his pocket held to appear like a gun, he disarmed some Germans and used their vehicles to take themselves and their prisoners back to the American lines.
After the war, Varner was back at the University of Illinois to obtain a master's degree when a package marked "Medal" arrived. Inside was a commendation from the Italian government and a small token. But the official medal was not inside.
After Varner's friend, R.F. Borelli, who speaks Italian, contacted the Italian Embassy last fall to point out the oversight, the Italians offered to cast the medal for Varner and send a representative to present it.
"It is highly unusual," said Varner's son, Larry, a retired teacher who lives in Galva.
Steve Varner was deemed disabled from his war injuries, but that didn't stop him from raising four sons, pursuing a career doing animal and human nutrition research and earning a national reputation for hybridizing irises and petunias.
Larry Varner said his father still spends time with his flowers every day, moving about on an electric scooter.
"We can't keep him out of the garden," said his son.