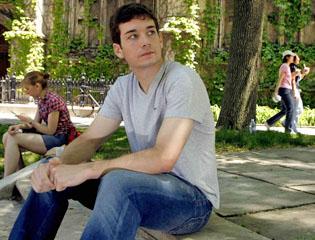 CHICAGO - A group of University of Chicago students think it's time the campus focused more on its men. A third-year student from Lake Bluff has formed Men in Power, a student organization that promises to help men get ahead professionally.
But the group's emergence has been controversial, with some critics charging that its premise is misogynistic.
Others say it's about time men are championed, noting that recent job losses hit men harder and that women earn far more bachelor's and master's degrees than do men.
"It's an enormous disparity now," said Warren Farrell, author of "The Myth of Male Power" and former board member of the New York chapter of the National Organization for Women. He noted, among other things, an imbalance in government and private initiatives that advance the interests of women and girls.
Further, Farrell said, just because some men are doing well is hardly a reason not to applaud efforts to boost the careers of other men.
"It's like saying 'is it OK for the Yankees to keep recruiting new players because the Chicago Cubs have not won as often?'"
Steve Saltarelli, the president of Men in Power, wrote a satirical column in March in which he suggested forming such a group. "Anyone with an interest in both studying and learning from men in powerful positions, as well as issues involved with reverse sexism, may become a member of MiP," he wrote.
Shortly after the column ran, Saltarelli started getting e-mail messages from men eager to join.
"Mainly people are just excited about the idea that men can have a group as well," Saltarelli explained.
Sharlene Holly, associate dean of students and the director of student activities, said the University of Chicago has approximately nine women's advocacy groups on campus; this group would be the first male advocacy group.
Saltarelli said some 125 students - including a few women - have joined the group via its Facebook page. He said the group would host pre-professional groups in law, medicine and business, foster ties with alumni, bring in speakers to discuss masculinity and mentor local middle school students as part of its "Little Men in Power" program.
As a registered student organization, Men in Power could then apply for event funding. The group plans to hold its first event, a student panel discussion titled "Gender and Media: Trespassing the Taboo," on June 2.
Saltarelli, who plans to attend law school, said the emergence of Men in Power has angered some students, especially "people very set in their ways."
To be sure, its title attracts attention.
"The name implies some things that I don't love," said Liz Scoggin, a third-year student who joined the group a couple of weeks ago and now heads its outreach efforts. "I feel like it implies there aren't enough men in power or that kind of thing."
But Scoggin, who is close friends with Saltarelli, said she joined after learning more about the group's aims and after she felt assured that the organization would not pursue a sexist agenda.
Jessica Pan, president of Women in Business and a fourth-year student, questioned whether Men in Power's goals were being met by existing student groups.
"I'm not sure we really need another student organization that focuses on pre-professional development for men," Pan said, noting that in just the area of business, there were five or six students groups that were gender-neutral.
Similarly, Ali Feenstra, a third-year student and a member of the Feminist Majority, questioned Men in Power's utility.
"It's like starting 'white men in business' - there's not really any purpose," she said.
Fred Hayward, founder of Men's Rights Inc., would disagree.
Hayward, who is based in Sacramento, Calif., started his men's group in 1977. Then and now, he said, women have not paid enough attention to what it means to be a man in modern society.
Hayward said one of the biggest myths borne of the women's movement was that men like to help each other out."We are competing directly for access to women and jobs," he said.
The group's birth comes at a time when the recessionary ax has fallen especially hard on men. In April, the national unemployment rate for men was 10 percent compared with 7.6 percent for women, said Mark Perry, an economist at the University of Michigan in Flint.
That gap is an "all-time historical high," said Perry, who attributed it in part to a loss of jobs in male-dominated fields such as manufacturing and construction.
At the same time, he noted, women today hold about three out of the four jobs in education and health care - both stable or expanding job fields.
Future employment is also an issue, some experts say. Since 1981, women have collected 135 for every 100 bachelor's degrees awarded to men, according Perry. The gap is even wider at the master's level, with women trumping men 150 to 100, he said.
Saltarelli hopes Men in Power will help more men get ahead while raising awareness of the male experience."If we have good men in our society, everyone benefits," he said.
Be the first to know
Get local news delivered to your inbox!