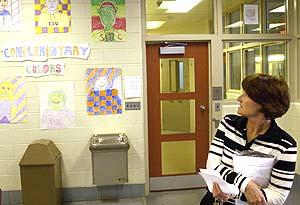 BLOOMINGTON — Hanging out with drug users and other criminals led Michael to make the poor choices that sent him to McLean County's juvenile detention center about a month ago.
Michael, whose real name is being withheld because The Pantagraph doesn't identify juvenile offenders, said his days are now filled with discipline, structure and time to reflect on the crime that got him locked up.
"I think about what I did all the time and how I would change it if I could go back in time," he said. "That's how you learn your lesson. When I get out of here, I'm going to change my ways."
While only time will tell if the 15-year-old can make good on the vow, Michael is being held in one of Illinois' top facilities for handling children who commit crimes, according to a pair of organizations that inspect detention centers.
The American Correctional Association and National Commission on Correctional Healthcare recently accredited the 26-bed juvenile detention center in McLean County.
Located off North Main Street in Normal next to Fairview Park, the detention center is one of only eight facilities in the nation to receive accreditation from both organizations, said Dave Goldberg, superintendent of the facility.
Inspectors from both organizations gave the detention center high marks for its day-to-day operations, which include providing education, health care and programming for the children housed in the facility.
Michael and about a dozen other children were getting their exercise playing volleyball during a reporter's recent visit to the detention center. Another group of about eight was doing homework in a classroom.
"We're not just here to lock them up and throw away the key," said Kathy Waltz, deputy superintendent of the facility. "We try to make a positive impression on these kids while they're here."
The recent accreditation shows that's happening, said Tari Renner, a member of the County Board and chairman of its justice committee.
"As a country, we fail as far as providing corrections for adults," Renner said. "We don't want to make the same mistakes with children."
There are 16 juvenile detention centers in Illinois. Many counties without facilities are forced to send their juveniles to other counties.
McLean County's juvenile detention center is the only one in Illinois to have accreditation from both organizations, which Renner said persuades other counties to send their offenders here.
"We're the Mercedes of facilities if you need a place to house your juveniles," Renner said. "We bring in quite a bit of money, which helps defray taxpayer costs by housing children from other counties."
Goldberg said the county made about $229,000 from housing juveniles from other counties last year. That covers about 17 percent of the $1.3 million of annual expenses at the detention center.
Counties pay anywhere from $80 to $110 per day to have a juvenile housed in McLean County, Goldberg said.
Michael, who was arrested after moving to Illinois from another state, said he's stayed in other detention centers and he appreciates how employees at the McLean County facility treat him with respect.
Still, it's not freedom. Michael said he doesn't know when he'll be released, but that he plans to change his friends when he gets out.
"I've had a lot of time to think about what I did," Michael said. "I hope not to come back here. I don't want this kind of life."