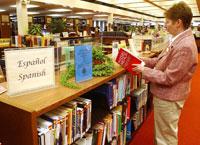 BLOOMINGTON - If a speaker of Spanish or Hindu needed help at Bloomington Public Library, workers know where to turn. But it could be a challenge if the speaker used one of the other 32 languages spoken throughout McLean County.
That could change by March when PolyTalk, a free library interpreters' network, is expected to be up and running throughout the state.
"Our goal is to have volunteers from 100 languages willing to be contacted," said Randi Weiss of Lincoln Trail Libraries Systems.
Local librarians could access the list of volunteers through a secure database, then set up a three-way call between the translator, library user and librarian.
"I think it's something we'll be able to use," said Krysta Tepper, interim director of the Bloomington Public Library. "There's a growing need for us to look at non-English speaking customers."
While Normal Public Library Director Bob Wegman said his library hasn't had a need for such a service so far, "it sounds like something with a lot of potential."
He believes many non-English speakers don't use the library, perhaps because of the language barrier.
Weiss said one of the goals of PolyTalk will be to inform non-English speakers of the program and hopefully draw more people to libraries.
Lincoln Trail Libraries Systems plans to have a Web site about the service available by the end of January or early February.
In the meantime, people who speak a language other than English and are willing to be on the volunteer call list can call Weiss at rweiss@lincolntrail.info or call (217) 352-0047, Ext. 229.
Volunteers give times they are available and can blackout times or dates when they will be on vacation or unavailable.
If you speak a language other than English and are willing to volunteer to help library users, call Randi Weiss of the Lincoln Trail Libraries Systems at (217) 352-0047, Ext. 229, or email her at rweiss@lincolntrail.info.
132: Number of languages spoken throughout Illinois;
100: Number of languages spoken in Cook County;
34: Number of languages spoken in McLean County;
8,500: Number of McLean County residents who speak a language other than English;
3,542: Number of McLean County residents who speak Spanish;
2,575: Number of McLean County residents who speak other Indo-European languages;