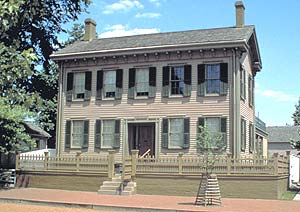 SPRINGFIELD - With Abraham Lincoln's 200th birthday just three years away, plans taking shape for improving his home in Springfield.
The Lincoln Home National Historic Site is expected to draw close to 600,000 visitors during the bicentennial year in 2009, said James Sanders, the site's superintendent.
But before that can happen, officials hope to add more exhibits and make needed repairs to the center's buildings. Sanders hopes to repaint, fix leaky roofs and replace carpets at some of the homes and buildings in the park.
An exhibit featuring a model layout of the park is scheduled to open in September at its visitor's center.
Sanders asked an Illinois congressman in a meeting Thursday for the federal government's help in funding some of the work. U.S. Rep. Ray LaHood, a Peoria Republican and one of the three chairmen of the Abraham Lincoln Bicentennial Commission, plans to work in Congress to get the needed funding.
"As we prepare for the 200th anniversary of Lincoln's birth, and as we prepare to do a number of things in Springfield, we obviously want to play off of Lincoln's home and what's available here," LaHood said.
Some of the work is funded through donations, but the site does not charge an admission fee. Lincoln's son, Robert Todd Lincoln, asked that the home be free for all to visit when he handed over control of it to the federal government.
The site does charge a $2 parking fee and can charge user fees for special events.
A total cost of the renovations was not available.
The site, which is a few blocks southeast of the 1-year-old Abraham Lincoln Presidential Library and Museum, has benefited from the increased tourism, Sanders said.
He said the number of visitors to Lincoln's home is up about 35 percent through March from the same time last year, and the busy spring and summer months are ahead. The site drew about 429,000 visitors last year, while the museum drew nearly 600,000 people in its first year.
Officials at Lincoln's home plan to work with other historic sites throughout Illinois to coordinate the bicentennial festivities and draw on the increased interest in the nation's 16th president, Sanders said.
"We don't want to duplicate our efforts with the dollars each of our budgets have. We want to expand that story and hopefully cover all points in doing it at different sites," Sanders said.
Sanders was recently appointed to the state's bicentennial commission. The commission will plan events throughout the state and help the national commission in coordinating nationwide events, including parades, exhibitions and performances, to mark Lincoln's birthday.
At the Lincoln home, Sanders hopes to have more Lincoln-period music, living history with people wearing 19th century clothing and storytelling throughout the site in time for the bicentennial.