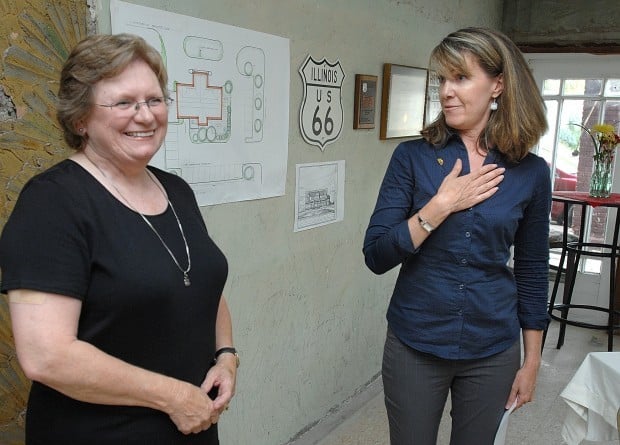 NORMAL — When Terri Ryburn used to drive by the former Sprague service station on Old Route 66 in Normal, she always thought someone should buy it and restore it.
In October 2006, she became that someone.
Since then, Ryburn has received a $46,695 grant from the town, a $20,000 grant from the National Park Service, a grant from the state and a day of volunteer service from the Route 66 Association to help her realize her restoration dream.
She's been able to install a new roof, heating and air conditioning system, bathrooms and ceilings and complete an architectural study. The electric and plumbing systems in the 1930s building also are virtually new.
While her efforts aren't visible from the street, they were recognized Tuesday by the National Park Service.
"You all are so fortunate to have Terri step in at a critical time, reverse its trend and bring it back to life," said Kaisa Barthuli, program manager for the Route 66 Corridor Preservation Program of the National Park Service. "This is a model project."
You have free articles remaining.
Barthuli said there are only three two-story service stations left on the Route 66 corridor.
"It's a landmark for the community and the entire length of the route," she said. "It's so important to travelers to see properties like this. This is why they come. People are looking for experiences like this, places like this."
The Tudor Revival-style gas station at 305 Pine St. is on the National Register of Historic Places because it is one of the few in the country with an owner's apartment and tenant's apartment on the second floor.
Ryburn and her husband, Bill Sanders, live upstairs.
Ryburn's ultimate goal is to create a visitors' center, coffee shop and tea room on the first floor and use the two-bay garage for performance and meeting space. Her long-range plan is to have a bed and breakfast on the second floor.
Renovation costs are estimated at $1.2 million. Ryburn said she's going back to work full-time so she can invest more money in the project.
"I know it's a wonderful building," she said. "It's remarkable that someone else says it is. It gives you oomph to keep going."