BLOOMINGTON — The battle to effectively end homelessness among military veterans who want housing in McLean and 10 other Central Illinois counties has been won.
But the mission to consistently find housing and support for veterans continues.
The U.S. Interagency Council on Homelessness, U.S. Department of Housing and Urban Development (HUD) and U.S. Department of Veterans Affairs (VA)  confirmed Monday that the Bloomington-based Central Illinois Continuum of Care has effectively ended homelessness among veterans in 11 counties.
The announcement was made at the McBarnes Building in an event attended by about 30 people, including representatives of HUD, VA and several partners in the continuum of care, including PATH (Providing Access To Help), The Salvation Army and Home Sweet Home Ministries.
"We're providing these services to veterans who want the help," said Wenger. "This is based on veterans' choice."
The effort, part of a nationwide campaign to end veterans' homelessness, began two years ago. The goal is to get homeless veterans into long-term housing, then to provide them other services they may need to address mental and physical illness, substance abuse and joblessness, Wenger said.
As of Nov. 30, 2017, there were 27 documented homeless veterans in McLean, DeWitt, Ford, Grundy, Iroquois, Kankakee, Kendall, Livingston, Logan, Mason, Menard, Piatt and Vermilion counties, Wenger said.
Since then, partners in the continuum of care identified homeless veterans, provided shelter to veterans who wanted it and worked to assist veterans into permanent housing that fit their needs, while providing them with community support and resources, Wenger said.
The recognition announced Monday not only means that homeless veterans identified in 2017 and those identified since then have been assisted and will continue to be tracked, but that the Continuum of Care agencies have the capacity to continue to identify and assist veterans experiencing homelessness and those at risk of losing their housing, Wenger said.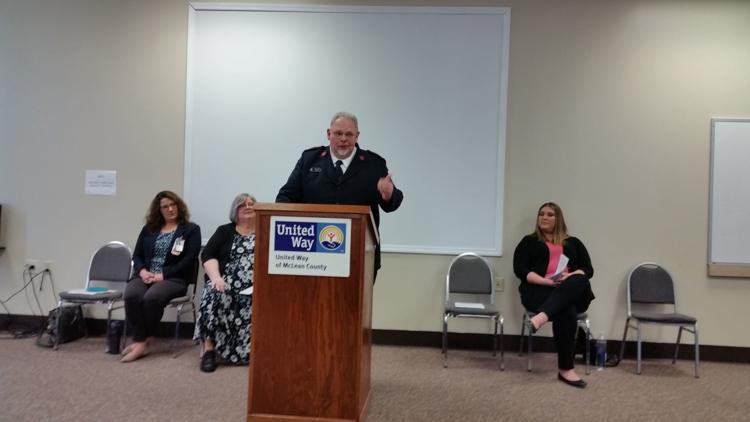 VA Secretary Robert Wilkie congratulated the agencies. "Achieving this important milestone shows that the support systems in place for veterans in Bloomington and other communities, that have ended veteran homelessness, are working," he said in a statement. "We at the VA are proud of our role in achieving this milestone but will not rest until every veteran in every community has a place to call home."
Joseph Galvan, HUD Midwest regional administrator, also said he was proud of the Continuum of Care's accomplishment.
"Veterans who risked their lives for our country should not have to sleep in their cars or in a temporary shelter," Galvan said.