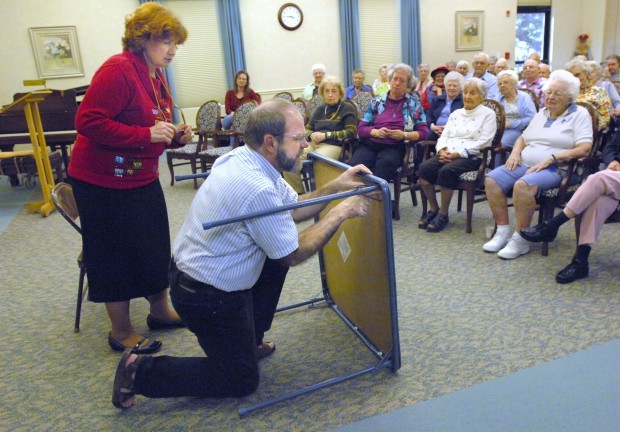 Larry Eggan has always been interested in theater, but his first performance effort while he was on the Illinois State University faculty was less than positive.
"It was a miserable experience," he said. "I didn't have enough time to practice."
But the idea remained in the back of his mind and when he heard about the Young at Heartland theater group in 2005, he decided to try again. He's been part of the troupe since then.
"It's been fun," said Eggan, 75, of Normal. "The group is very supportive of me. I like to perform and I've been fortunate to be cast in interesting plays."
He's done excerpts from "On Golden Pond" and performed in plays written by Normal resident Terri Ryburn, another member of Young at Heartland.
Eggan is one of only a handful of men who have taken advantage of the theater group, started in 2004 with the help of a McLean County Arts Center grant. The troupe, for people 55 and older, has become so popular that founder and program director Ann B. White had to close enrollment when it hit 30 participants this year.
Several troupe members, including soon-to-be 82-year-old Holly Klass, return season after season.
"I wish I'd joined it earlier," said Klass, who started in 2006 after seeing a performance at her church. "It's a really, really nice group."
Klass, who had no acting experience before joining, has since written a short play and even got a part in a Heartland Theatre Company 10-minute play.
"One of the great offshoots is that we have members writing scenes to do," said White.
That confirms her original thoughts of starting the group.
"I felt a senior actor workshop would be a chance to hone skills and give a place to perform," said White, who got the support of the Heartland Theatre Company board in 2003.
The first year, six people enrolled. The program, which costs $50 for the two-season year (scholarships are available), includes acting exercises, memory skills and voice training from a certified instructor. D. Ann Jones, who has an advanced certification in education, bachelor's and master's degrees in education and teaches acting and introduction to theater at Millikin University, has served in that role for four years.
Classes take place each Monday in April and May, followed by 12 performances in June and July. The second season starts with August and September classes, followed by eight performances in October.
White said participants can take just one or both sessions and may choose not to perform. The performances are mainly scenes cuttings from bigger plays or short plays, she said. They also are age-appropriate for their senior audiences.
"There's nothing offensive," she said. "It's more toward humorous."
Performances are free. White said the troupe has been lucky enough to get continued grants from the Arts Center, but the amount has dwindled from its original $1,500 grant to just $500 this year. That grant and the program fees are used to pay the instructor and such expenses as scripts and class materials. Actors also receive out-of-town mileage reimbursement.
The group has access to the Heartland Theatre Company costume shop, which helps keeps costs down.
What: Young at Heartland senior performing troupe
When: 2 to 3 p.m. Oct. 29
Where: Normal Public Library Community Room, 206 W. College Ave.