BLOOMINGTON — Zach Gittrich held the U.S. flag upside down Tuesday afternoon at the corner of East and Douglas streets, in accordance with Section 8 of the federal flag code: a signal of dire distress.
"It's a symbol that we're a country in crisis because we're committing human rights violations against innocent people just trying to find a better life," said Gittrich, of Bloomington.
Julie Prandi, who organized the rally with the Stand Up for Social Justice group, called their conditions horrendous — "not proper medical treatment, not clean water to drink, not enough food to eat, too cold, no blankets, sleep on the floor, crowded conditions."
After standing in the sun for an hour, Amy Jeck said it's a privilege to be able to stand up for these children.
"It's a real privilege to be able to want to go out and speak out against things because we are so far separated from it that we're not experiencing it ourselves," she said. "It's the least that anyone can do to take one hour out of their day to come out here and kind of give people a heads up to look into what's going on."
Louis Goseland took the mic to remind those who gathered "the United States of America has never been immigrant-friendly."
"We need to recognize that throughout all history in this country the outsider has not been welcome and throughout that history there's always been a group of people willing to organize and subvert that anti-immigrant narrative and the atrocities that people for generations have faced in this country," said Goseland, of Bloomington.
You have free articles remaining.
"I think a lot of people are taken off guard by the atrocities that we're facing, but if we look at the way this country has treated black and brown people throughout its history and the way that we have treated people who have come here to try to make a better life, it's always been with brutality."
Gail Stanek, who held a sign that read "Children do not belong in cages," said she's been to almost every rally organized by Stand Up for Social Justice, but this one meant the most to her.
"Because I'm sure there is a lot more that is going on that we don't even know. We don't know how many more bodies there are that are buried somewhere," she said through tears.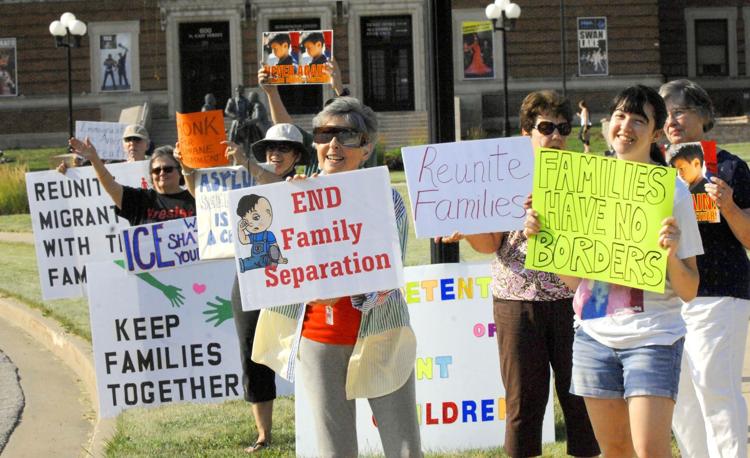 Since reports of the conditions found in the detention centers and the deaths of migrant children, Ben Edwards of Normal said he wanted to keep local perspectives in the conversation.
"Even though Illinois is a blue state in Chicago, it is hard sometimes in the middle of the state and the south to get enough representation for events like this," he said. "So whenever something like this happens, I want to be here to show that there are people who care about these people's rights and their humanity."
When asked why she was there, Tegan Gieseo simply said she didn't know where else she would be.
"This seems like a violation of human rights on a large scale and I can't imagine being anywhere else but protesting it," she said.