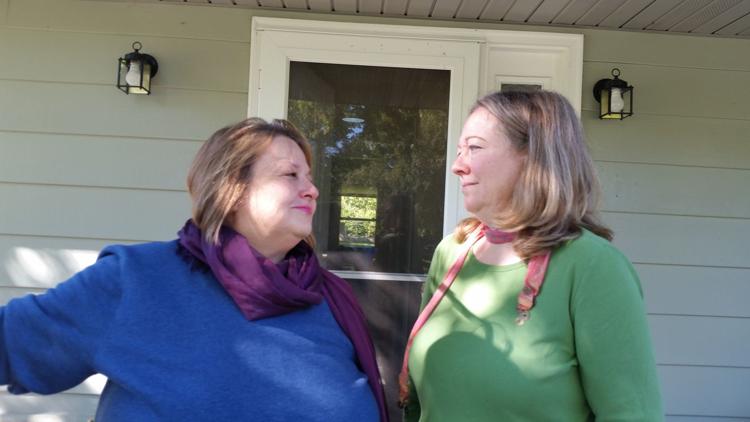 BLOOMINGTON — Sara Weidemier was raped when she was 16.
"I took the pain and ran with it," she said, learning to have more control of her body and later working with other sexual assault victims.
Aleda Diggins was sexually assaulted at age 20. She became more aware of potentially threatening situations, volunteered at a rape crisis hotline and became more calmly assertive.
But neither woman, both of whom live in Normal, discussed their decades-old experiences in public. Until recently.
"What surprised me with the whole thing was the blatant disregard for women," said Weidemier, 62, of the congressional hearing.
Diggins, 56, said, "It was 'he said, she said,' but he gets the benefit of the doubt because it can't be proven and because he's more powerful."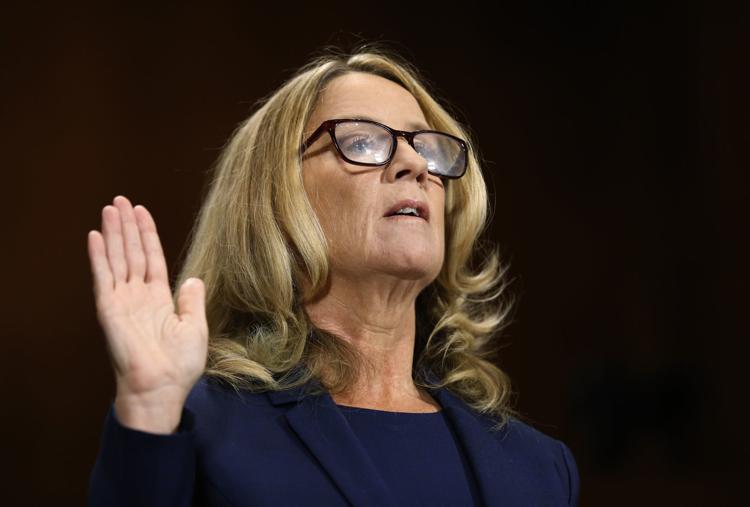 "It shows we have a long way to go," Diggins said. "But the conversation is not ended." 
"I want people to know this was really common and maybe still is," Diggins said.
"The beauty of the triggering is it has galvanized a lot of women," added Weidemier.
Weidemier's story
Weidemier was 16 and living in San Diego when she and a friend went out on a Tuesday night to join some classmates at a house to listen to music. Her friend left early but Weidemier stayed. She was not drinking alcohol, she said.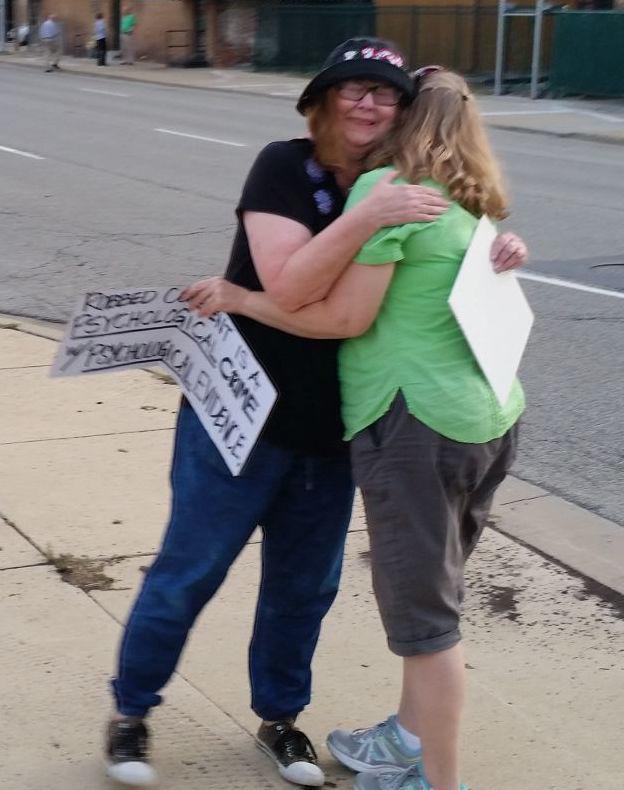 "I remember listening to music and then I remember all of a sudden waking up in a bedroom with this guy on me," Weidemier recalled. "I looked down and there was blood. I pushed him off and stumbled out of there ... I fumbled my way to my friend's house. She was the only person I ever told.
"It was a popular guy from high school, no one I would consider being around. And he had a girlfriend.
"The scuttlebutt later at school was that he put a barbiturate in my soda pop.
"I hurt really bad, but I never went to the doctor because I'd be in trouble for being at a party on a Tuesday night. I wasn't sexually active. I still considered myself a virgin because my virginity was mine to give and I didn't give that to him."
Weidemier did not become pregnant.
"Where my life collapsed is when I got to school and word got out that I was 'easy,'" Weidemier recalled. "The name-calling. The shaming. The rumors."
For a time, she avoided certain people, not taking the bus to school and cutting some classes.
"I associated with a variety of people. It helped."
Why didn't she tell an adult? She figured she'd get in trouble for being at a party on a school night.
After the initial shame, Weidemier decided to challenge herself physically, joining the boys' wrestling team in high school and earning a brown belt in karate in college.
After she married, she and her husband lived in Guam for seven years because he was in the military. There, she directed a victim advocacy organization and many of the women were victims of sexual assault.
"I organized support groups and worked with sexual assault victims," she said. Over 30 years, as she and her husband lived in various communities, she worked for crisis hotlines.
You have free articles remaining.
She and her husband and now-adult child moved to Normal in 2000.
"I am yesterday's victim, today's survivor and tomorrow's advocate," she said.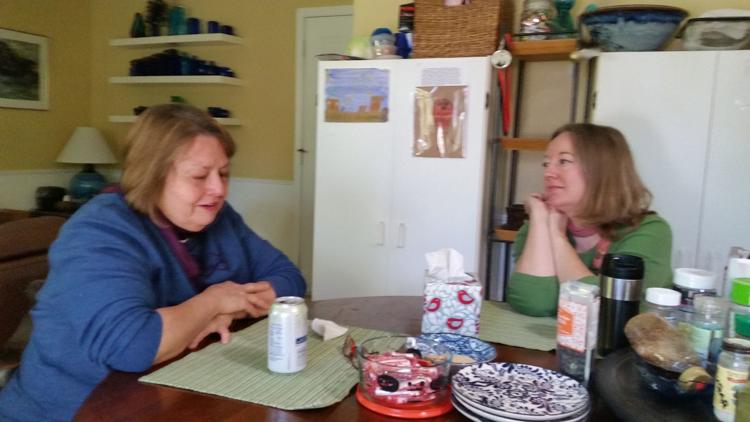 Diggins' story
Diggins was an undergraduate teaching assistant at Kansas State University when a professor asked her if she would go out with a graduate teaching assistant if he asked her.
"He was tall and good looking and he was a graduate student," Diggins recalled. "I agreed to go out with him."
"I can't remember much about the date, but he invited me to see his apartment," she recalled. "We were colleagues. Our professor recommended him. I thought he thought I was smart and interesting."
Diggins said she hadn't been drinking.
"We were sitting and talking when he slammed me onto my back on the concrete floor. It was a basement apartment.
"I was 115 pounds. He was 280 to 300 pounds. He was flattening me beneath him. I got the wind knocked out of me. He was trying to keep my arms and legs pinned down. I didn't want to make him mad because I was afraid he'd crack my head on the floor. But I needed to get out from under him. I kept wriggling around. I didn't scream, but I think I said, 'No, please, Ed, I can't breathe.'
"Finally, I think he got exhausted trying to pin down every part of my body. He decided it wasn't worth it to keep struggling against me. He rolled off. I ran out the door."
BLOOMINGTON — People who continue to make Christine Blasey Ford's sexual assault allegation against Brett Kavanaugh about politics don't get i…
Diggins didn't tell anyone "because the answer would have been, 'Don't go out with that guy again,'" she said.
"The next time I saw the professor, he asked me, 'So, how'd the date go with Ed?' I said, 'He's kind of scary.' He said, 'What, Ed? He's a big old teddy bear.' And he laughed. That's the way it was."
Why didn't she tell anyone?
"You don't want to admit that someone tricked you into a position of vulnerability," she said. "I didn't want anyone to think I was a sexual tease ... I wasn't having sex.
"The attitude would have been, 'It's your fault. You were there.' I thought I was lucky to not have been raped and I wanted to put it behind me."
She avoided her attacker. Before she dated anyone, she made sure she knew more about the person. When she dated, she told her roommate where she'd be and who she'd be with.
She worked for a crisis hotline and found the experience therapeutic.
In subsequent years, she had sexual harassment experiences, including during an job interview with a law firm. Her complaint to the firm and to her law school dean's office resulted in no changes. The experiences contributed to her decision to not become a lawyer even though she had a law degree.
Instead, she worked as a life skills teacher at several correctional centers. She and her husband, who have a daughter, settled in Bloomington-Normal in 1998. "I'm an artist and volunteer, currently," she said.
What now?
"I want men to listen and hear," Weidemier said.
"I want progress," Diggins said. "I want my child to be safe. We want more women in positions of representation and power to shine the spotlight on issues that have not been adequately addressed in our society."
"Parents should have conversations with all kids about respect and sharing power," Diggins said. "And I want people to know that consent should start with mutuality and continue with mutuality at every step of the way."