BLOOMINGTON — Women of all ages found new ways to connect with local businesses on Saturday at the What Women Want Expo hosted by Parke Regency Hotel and Conference Center.
"The whole idea is to promote local businesses," said Uma Balakrishnan, the event organizer. "We just wanted women to come, experience, meet with the local business owners."
About 80 vendors filled the conference center and spent the daylong event talking to the slate of potential customers about their products and services.
Cathy Axline and Mehl Feldkamp, both of Bloomington, said the best part of the expo was "Finding out about some new vendors, new places in town, what's available."
Axline and Feldkamp chose the expo's VIP tickets to get access to free perks including a makeover by Sephora, a psychic reading and eyebrow threading — which they highly recommended.
"We're just looking for fun things to do," Axline said. "It's just kind of getting together with women and enjoying the day together."
Donny's Popcorn handed out samples of a few nontraditional flavors like candied red apple, and Olivia Teplitz-Crawford at the FruitArt booth gave away a variety of fresh fruits.
"This event is so important as it pays special attention to women in this community and celebrates their accomplishments," said Teplitz-Crawford, the event's youngest entrepreneur, in the days leading up to the expo.
Attendees were also treated to wine tastings from Binny's Beverage Depot, beer tasting by Keg Grove Brewery, which brought a special blueberry flavored brew, and free appetizers from Nelson's Catering.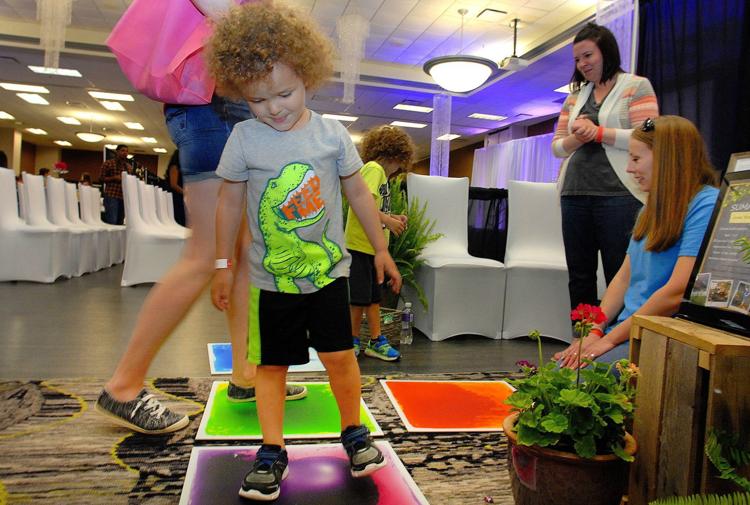 Several raffles and giveaways were spread throughout the day as well as stage presentations with self defense groups, leadership panels, beauty demonstrations and fitness clubs.
"It's just a way to support the community," Balakrishnan said, adding that she hopes this will become an annual event.
In the day of shopping, pampering and unwinding, the expo also welcomed six nonprofit organizations: YWCA, Child Protection Network, Num Num Box Care Package, Boys & Girls Club of Bloomington-Normal, NAACP and McLean County Moms Demand Action. From each ticket $1 was donated to the nonprofit voted upon by the attendees.
"I like it because a certain portion goes to charity — that's really the main reason why I did it," Feldkamp said.