NORMAL — Chicago Bears head coach Matt Nagy will look across Soldier Field to open the NFL season on Sept. 5 and see Aaron Rodgers on the other side.
On Thursday night, Nagy had to follow the Green Bay Packers' star quarterback in another role. 
A year after Rodgers did the honors it was Nagy's turn to be the keynote speaker for the 26th annual American Red Cross Evening of Stars at the Marriott Hotel and Conference Center in uptown Normal. 
"That's a tough deal there. I feel like I'm small potatoes compared to Aaron," Nagy joked after a sponsor reception at Uptown Station in the Normal City Council chamber before the dinner.
"I respect that ... there were a couple Green Bay Packers fans in there tonight. A couple had (Packers) ties on. I just looked the other way during the picture."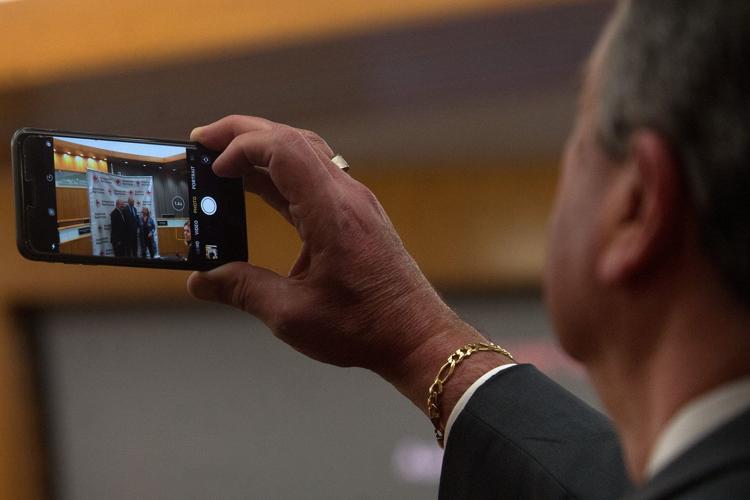 Maria Henneberry, who is regional communication director for American Red Cross Central and Southern Illinois, said a thousand people attended the dinner. The Red Cross was expecting to raise the same amount as last year, $342,000, for programs and services in Central Illinois.
The Bears started their offseason workout program this week and are busily preparing for next week's NFL draft. But Nagy wanted to squeeze the Red Cross event into his busy schedule.
"Obviously it's a special organization and for me it's about giving back and helping organizations that help others," he said. "That's inevitably what this is all about. It's easy for me and I enjoy it."
Bears fans certainly enjoyed Nagy's debut season as coach. 
After serving as Andy Reid's assistant in Philadelphia and Kansas City for 10 years, Nagy helped resurrect the Bears, who had suffered through four straight double-digit losing seasons.
Nagy brought a new offensive philosophy to the Bears. That included special trick plays featuring offensive and defensive linemen lined up in skill positions with special names such as Freezer Left, Santa's Sleigh, Willy Wonka and Oompa Loompa.
"The Bears were fun to watch again. I want to thank him for that," said Dave Oloffson of Normal, who was there to meet Nagy with his wife, Cathy. "He changed the whole culture. The last few years (before Nagy) were pretty hard to watch. It's nice to be able to watch them and enjoy them again."
Former Illinois Wesleyan University tailback Deon Hornsby, who now lives in Elgin, believes Nagy changed the culture around the Bears with an easy style the players enjoyed.
"What you saw last year was the team bought into him and each other and they had fun," said Hornsby. "Success and fun kind of go hand in hand."
Trying to repeat that success in year two won't be easy. Nagy's already addressed that with his team.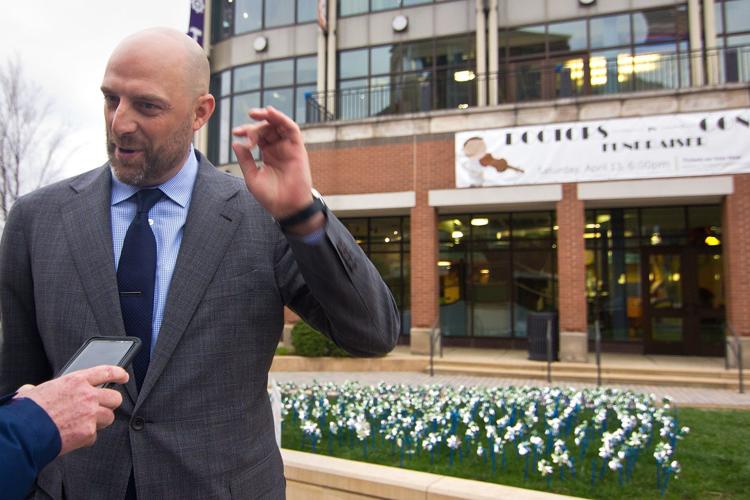 "It's one thing when you start your first year and the expectations aren't really there. Now we've set the bar high, and that's a good thing," he said. "We have a good group of guys. We have good people and they're good players. It's just a matter of you don't look ahead too far and focus on one game at a time."
Plenty of focus will be on Chicago's third-year quarterback, Mitchell Trubisky. 
Nagy said his goal for Trubisky "is to keep growing and staying positive."
"In practice and games there's going to be mistakes, but use those mistakes and turn them into growth movements for him. That's what he's done," said Nagy. "He's a super kid and he wants to do well."
---
Photos: Chicago Bears head coach Matt Nagy headlines American Red Cross event