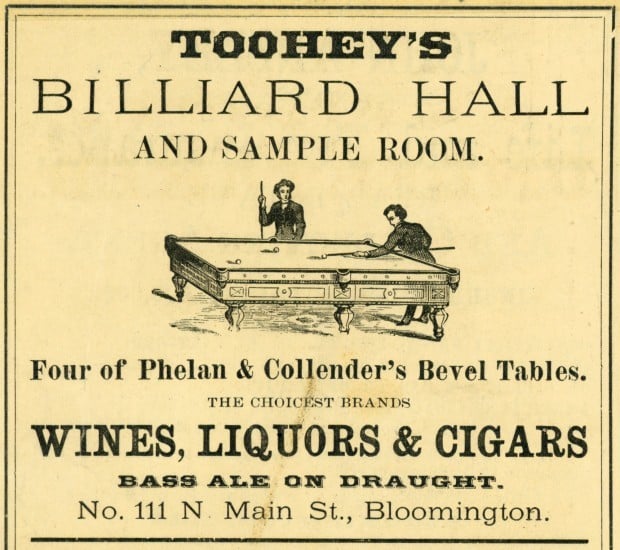 BLOOMINGTON — English philosopher Herbert Spencer liked to say that "to play billiards well was a sign of an ill-spent youth."
Be that as it may, back when the game first became popular many area youths whiled away the hours (often losing hard-earned dollars in the process) at one or more "billiard saloons" in Bloomington.
It appears the first billiard tables arrived in the city in the summer of 1856, installed by H.A. Miner on the second floor of 106 North Main St.
"These were wood bed tables — the old style — combining a wonderful amount of noise with a very poor variety of billiards," read an account of the early game in Bloomington.
Later that same year, C.W. Lander brought four tables to the city,
two with a wood-playing surface and two of marble.
By 1870 there were at least five billiard establishments in Bloomington, including two on the Courthouse Square — one occupying part of the old Opera House on Main Street, the other at the Ashley House on the northwest corner of Center and Jefferson streets. There also was J.W. Raynor's billiard hall at 908 West Chestnut St., along the thriving commercial strip serving the city's northwest side and the nearby Chicago & Alton Railroad depot.
"We all hate to be waiting hours for a train, without good society and amusement," read one advertisement for Raynor's.
"Here you will see some good games; the balls are smooth and the tables perfectly true."
The terms pool and billiards often are used interchangeably, though some reserve pool for only those games played with pockets (hence the term pocket pool).
To further confuse matters, the term "pool room" comes from the fact that many betting parlors included billiard tables —"pool" being a betting term not originally associated with billiards.
You have free articles remaining.
The most popular billiards game in the early 1870s was known as American four-ball, played on a four-pocket table several feet longer than those today.
By the end of the decade, four-ball had given way to two other games — simple caroms, played on a pocket-less table with three balls, and American 15-ball, a forerunner of modern pocket pool.
In late March 1871, John Tavenner and George Hale, proprietors of the Ashley House billiard parlor, refitted their place and added four tables from Chicago manufacturer Adolph Zeller.
To celebrate, they staged an exhibition by visiting billiardist "Professor" Albert Garnier, who would go on to claim several world championships and author the 1880 book Scientific Billiards.
At this time, billiard halls were licensed, regulated and heavily taxed in Bloomington; wagering was outlawed and minors were prohibited from playing.
In February 1872, Bloomington clothier E.C. Hyde filed a complaint against Jacob Friend for allowing his high school-age son to play at his (Friend's) downtown billiard hall.
City attorney (and future Illinois governor) Joseph Fifer squared off against a defense team that argued the Hyde boy lied about his age, and thus it was he and not Friend who violated the law.
The first six-man jury couldn't come to a decision ("decided to disagree" said The Pantagraph) while the second ruled against Friend, who was ordered to pay a $5 fine and court costs. The case attracted a crowded gallery from beginning to end, including a large contingent of the high school's male student body.
"It can no longer be denied," noted The Pantagraph in the trial's aftermath, "that a large number of young men, with and without down on their faces, spend a good deal of time and money playing billiards, and those who think that is not the best use of one or both, would well to look after their boys when they are out of school and away from home."
By 1875, there were 10 licensed billiards saloon or halls, with no one place having more than four tables.
A game cost 25 cents, though establishments made more money from what was called the "sample room" where players could purchase liquor and cigars.
In May 1881, Jacob Schaeffer and J. Randolph Heiser, two of the leading American billiard players, staged an exhibition at the Opera House, with one game of French caroms and second of "cushion carom."
They also challenged "five local experts," including post office inspector Allen T. Lawrence and billiard hall proprietor Christian Riebsame. Schaeffer and Heiser, according to The Pantagraph, "defeated them so easily that the spectators fully believe they could have beaten all the billiard sharps in town."