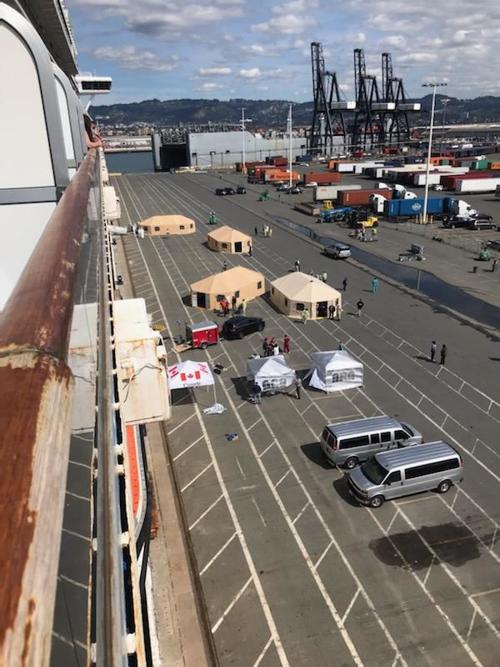 DOBBINS, Ga., — Jordan and Barbara May continue to be quarantined at a Georgia Air Force Base and have mixed emotions as some of their former cruise ship mates begin returning to their homes.
"They are going to travel by bus to Lexington, Kentucky and then, their family members are expected to pick them up, take them to their homes and be under self-quarantine for another 14 days. But it doesn't look like any of us from Illinois are going home," Barb reported Sunday.
"Overall, we are coping, we are managing, we are dealing with it," she said. "I have talked with a lot of people on the phone including legislative offices and even the governor's office. I think I might just cut back on trying to get help and just deal with it."
Barb said they are now getting food and water consistently and the meal deliveries have improved over the first couple of days. A lack of information continues to be frustrating.
"Some people are getting calls saying it is in California, and some say it is in Texas," she said. "We really aren't sure. We're living with what we have. But we are fine. I feel bad for everyone in here."
While at Dobbins Air Reserve Base, the U.S. Department of Health and Human Services has oversight of the quarantined guests. Guests will have their temperature checked by medical staff each day and be given a digital thermometer to check if needed. If a temperature exceeds 100.4F, they are required to contact medical staff.
The quarantined guests are allowed to leave their rooms, but are required to wear masks when outside and maintain a distance of at least six feet from others. Staff members wear hazmat outfits and latex gloves.
A look at the latest on the coronavirus outbreak and what's happening in Central Illinois.
Barb said she hopes to return home soon, but one way or another, the quarantine stay at Dobbins is scheduled to end March 26.
Contact Kevin Barlow at (309) 820-3238. Follow him on Twitter: @pg_barlow
Concerned about COVID-19?
Sign up now to get the most recent coronavirus headlines and other important local and national news sent to your email inbox daily.