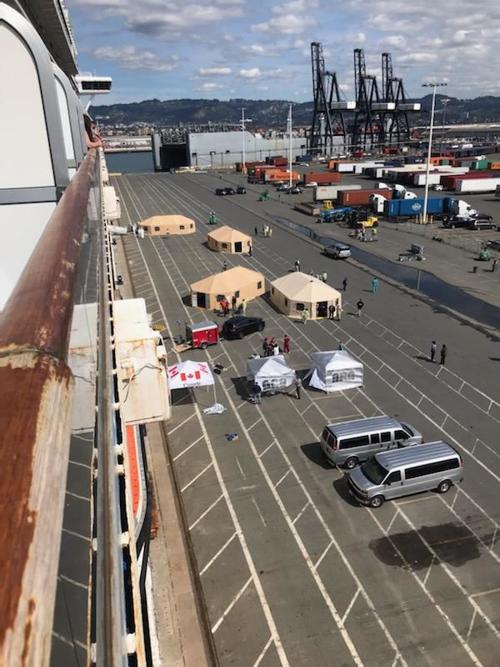 OAKLAND, Calif. — A Bloomington couple awoke Wednesday morning to find luggage tags outside of their stateroom door of the Grand Princess, a cruise ship docked in Oakland after at least 21 people tested positive for COVID-19.
Jordan and Barb May have been on the ship as it waited off the coast of California after coronavirus was detected. The luggage tags were a sign that the Mays were scheduled for disembarkment soon.
"Last night, the Captain said they moved more than 1,000 off," Barb reported on her Facebook account. "He has been told the goal is to move everyone today."
---
---
"We have been watching and it is a big waiting game ... how long it takes to get the OK to walk off ... then our temperature will be taken ... then we go in a tent and have to answer some questions ... then we load on a bus ... then we wait ... then we leave with a police escort ... then we are taken directly to the aircraft. Long day ahead!" she reported.
It will be at least two weeks before the Mays are able to return home. They will be flown to either Lackland Air Force Base in Bexar County, Texas, or Dobbins Air Reserve Base in Marietta, Georgia, for two weeks of quarantine. Once they arrive at that destination, they will be tested for the COVID-19 virus.
Barb May said the McLean County Health Department has been in contact with the couple and will continue to be in touch over the next few weeks.
A 71-year-old California man died of the disease last week and officials discovered he had been on the ship a month earlier. Nineteen crew members were among those who tested positive and were quarantined on the ship. Last Thursday, guests were told to stay in their rooms and several guests were tested for the virus.
The Mays said the cruise ship has done everything possible to make their experience as enjoyable as possible, given the circumstances.
Once disembarkation of the guests is completed, remaining crew members will remain onboard and Grand Princess will depart from San Francisco Bay. Plans for a crew quarantine are still being determined.
Concerned about COVID-19?
Sign up now to get the most recent coronavirus headlines and other important local and national news sent to your email inbox daily.