But none of the law enforcement agencies contacted by The Pantagraph had seen any as of Tuesday. Several gun shops also were contacted because they often are used as places to buy, sell or trade firearms and equipment.
"We haven't seen any and we're not legal to have them, so it wouldn't do anybody any good anyway," said Ron Darnall of Darnall's Gun Works and Ranges in Bloomington.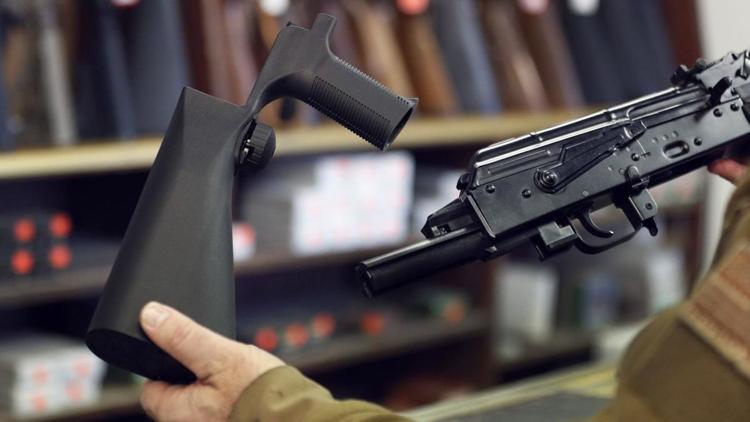 A bump stock attaches to a rifle's frame and uses recoil effects to bounce the rifle off the shooter's shoulder and bump the trigger back into the trigger finger. That speeds up the rate of fire because the shooter doesn't need to pull the trigger each time, effectively imitating fully automatic gunfire. 
The drive to ban bump stocks picked up steam after the October 2017 mass shooting in Las Vegas. Authorities said a man killed 58 people and wounded hundreds of others while shooting into a crowd of concert-goers from a high-rise hotel room with the aid of a bump stock.
Local law enforcement agency officials are opposed to the devices. 
"The risk outweighs the value," said Illinois State University Police Chief Aaron Woodruff. "I guess there might be an entertainment value with it, such as you might get if you added a big engine to your car, but really, it's not necessary."
You have free articles remaining.
"Our agency hasn't had any encounters with these types of devices," said Normal Police Chief Rick Bleichner. "I see no value of them to a legitimate sportsman, collector or competition shooter. These were pretty much a novelty prior to the tragic Las Vegas shooting."
Bloomington police also haven't taken in any, said Public Affairs Officer John Fermon.
"Bump stocks aren't something we see very often, if at all," he said. "I haven't heard of them being used in an incident in my six years here."
Diane White, a co-leader of the Bloomington-Normal chapter of Moms Demand Action for Gun Sense in America, said the ban is a step in the right direction.
"We are thrilled about the bump stock ban, and any measure that saves lives and reduces gun violence, we are happy with," she said.
The Justice Department estimated that more than 500,000 bump stock devises had been manufactured and sold prior to the ban. But anyone owning one was required to get rid of it following the December ruling.
The ATF suggests cutting, crushing, melting or shredding them and has an online how-to guide. Possession of a bump stock is punishable by fines and up to 10 years in prison.
"The biggest problem is that they didn't grandfather this in like they did with earlier things," Darnall said. "In the past, they also just said you can't make these anymore, but anyone with one already in their possession could keep it. That's not what is happening this time and I think that's wrong."