MONTICELLO — Among President George H.W. Bush's pallbearers Wednesday was Capt. Chris Blanchard, a Central Illinois native who serves with the Old Guard, a historic Army unit that serves as the president's ceremonial escort. 
"It is definitely a huge honor to be able to pay your respect in this way," said Blanchard, who could be seen standing at the head of the casket, which also was was flanked by six pallbearers from the various armed services.
The former DeLand-Weldon High School student enlisted in the Illinois National Guard after graduating from Monticello High School in 2005. He attended Southern Illinois University at Edwardsville and was commissioned from there into the Army in 2009.
He serves in the 3rd U.S. Infantry Regiment. Founded in 1784, it is the oldest active-duty infantry unit in the Army. 
In addition of providing security for Washington, D.C., the unit serves as the honor guard for events such as White House ceremonies and state funerals. Members guard the Tomb of the Unknowns and provide funeral escorts at Arlington National Cemetery.
"I was a company commander out of Fort Lewis, Washington, and I applied to come out to what they call the Old Guard in Washington, D.C.," he said.
He previously was a pallbearer for Sen. John McCain, R-Ariz., who died Aug. 25.
"We were informed Saturday morning about the passing of President Bush and so we began preparations immediately," he said.
While the company practices their routines all year long, they review and practice several more times to ensure that they are professional and no mistakes are made.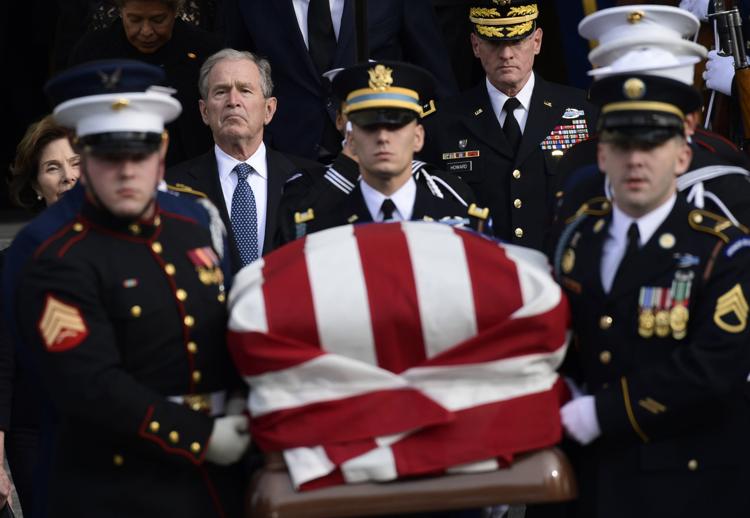 The funeral and procession were witnessed by thousands and viewed by millions on television.
"You are super nervous until it's 'go-time,'" he said. "Then, your training just kicks in and you do your best."
Blanchard said his role at funerals has given him occasions to reflect on his own life and the people in it.
"You think about your grandparents and your parents for sure," he said. "They were such huge role models for me and you just think about all of the lessons you learned from them and how they played a part in getting you to this point.
"I've taken lessons from all of them, as well as other family members," he said. "You take those lessons, you apply them, and then you work hard."
Married with two twins at home one boy, one girl, Blanchard said he is trying to save as many pictures of the funeral as he can. He is anxious to tell his stories to his daughters.
"I want to keep them all and show them their father," he said. "They will probably be surprised at how young I look, but I think it will be something they can be proud of, as well."
After the funeral was over, Blanchard admitted to being exhausted.
"It's mentally exhausting and kind of how you feel in the fourth quarter of a football game," he said. "But the amount of pride and support you received from friends and family and of course, your friends in the Army, is amazing. You just want to do the best you can."
Blanchard didn't get the chance to meet the president's family.
"They stand right behind you and it is an amazing feeling to be that close," he said. "But we have a job to do, we have to be professional and keep our minds on what we are doing."