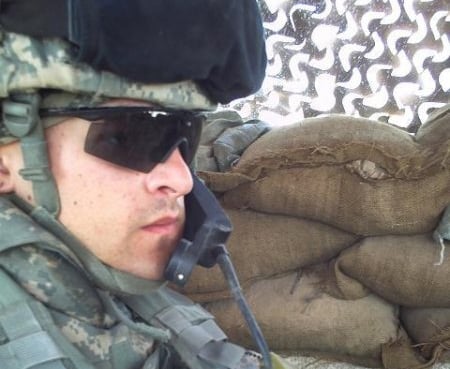 EUREKA -- A former Woodford County man who had been absent without leave from the U.S. Army for half a year turned himself in to Illinois State Police on Monday.
Spc. Don Gartin, 25, was accompanied by a crew from CNN when he walked into the state police station near Metamora on Monday, exiting a short time later in handcuffs with officers. He was taken to the Woodford County jail in Eureka and was expected to be transferred to Army custody on Thursday or Friday.
A hearing that had been scheduled for Wednesday in Woodford County has been canceled.
Gartin was interviewed via the Internet by CNN a week ago from an undisclosed location, and he later made arrangements for representatives of the television news network to accompany him when he surrendered.
He told CNN he has post traumatic stress disorder, didn't get the help he needed from the military and felt he was a danger to his fellow soldiers.
"Would you want to be that person that gets a phone call that says your brother, your sister, your significant other was killed today by another soldier because of mental problems he was dealing with?" Gartin said on CNN last week.
He spent 16 months in Iraq and then was sent to Texas, said Gartin's mother, Jerri Hyde of Washburn.
"Once I got down to Fort Bliss it was all down hill; my mental stability started dwindling away," he told CNN.
He didn't turn himself in earlier because he was afraid he would be sent back to active duty.
Hyde said that her son asked for help in Texas and had to wait for two months.
"It's not to make the military look bad," she said of her son's actions. "It's so people can get help."
She said she noticed a difference in his behavior after Iraq, "but it wasn't changing and he seemed to get more depressed."
Hyde said another son, Daniel, just got out of the Marines, and she is concerned about how Gartin will be treated.
"They fought for people's rights to have their opinions," Hyde said.
The Army told CNN that while desertions are up, it has treatment options for soldiers.
Gartin said he felt he had no choice.
"I was a horrible person," he told CNN. "I was in a dark place."
The news network reported that he could face dishonorable discharge, forfeiture of pay and up to five years in a military jail.