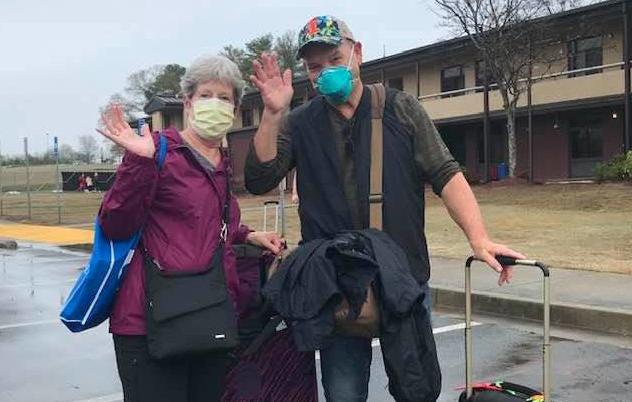 BLOOMINGTON — "We are on our way HOME!!!!"
"Yesterday at our town meeting call, we were told our quarantine had been rescinded, meaning we were able to leave this morning if we had someone to pick us up or we could rent a car," she said. "We were told we aren't able to take any commercial transportation."
More good news followed as the Centers for Disease Control called with news that both Mays had tested negative for COVID-19.
"We are FREE!," she wrote. "The prisoners have been released!!!"
They still need to wear masks and self-quarantine through Wednesday.
"No problem there," she said.
"They had it decorated and everyone wished us well and said 'goodbye,'" she said. "The next stop was the car rental at the airport and we drove in pouring-down rain."
Since arriving at the base on March 15, the couple has struggled with their living quarters. In the beginning, food and communication were hurdles, but further into the stay, those conditions improved. Still, it wasn't home.
The couple should arrive back in Bloomington Wednesday, she said.
"We might try to drive straight through," she said. "The weather isn't too good. It's raining and foggy."
But she is anxious to get home, knowing that the couple has friends and family waiting to know they are back at home.
"Thank you everyone for supporting us through this nightmare," Barb said. "We really appreciated all the comments and encouragement. Can't wait to be home."
Contact Kevin Barlow at (309) 820-3238. Follow him on Twitter: @pg_barlow
Concerned about COVID-19?
Sign up now to get the most recent coronavirus headlines and other important local and national news sent to your email inbox daily.