AFFORDABLE HOUSING
Community: ISU, IWU students begin 25th Habitat house
'The idea that all people can come together and support a house is powerful'
NORMAL — For the 25th time in 24 years, a unique collaboration of Illinois State and Illinois Wesleyan university students and staff and members of the Bloomington-Normal community are working side by side, literally building community.
Framing of walls began Friday on the ISU campus and will continue next Friday on the IWU campus for the 25th Collegiate House. That means the 25th home that ISU and IWU students and staff have built together with other community volunteers, and the families who will live in the homes, through Habitat for Humanity of McLean County.
A groundbreaking ceremony will begin at noon Aug. 25 at 904 Bryan St., formerly 222 Keiser Ave., in Normal. Construction by the college students and staff will continue from 8 a.m. to noon each Saturday, weather permitting, until the home is complete before graduation in spring 2019.
By then, 500 college students will have shown up at least one day to help. "About 30 are involved from start to finish," said Ashlee Sang, Habitat for Humanity of McLean County communications specialist.
Six Habitat homes are being built this year, including the home co-built by the students, he said.
"They are building a legacy of community engagement," Walters said. "It impresses me."
"We don't only build houses," said Jade Surface, an ISU senior in biology and co-president of Habitat's ISU chapter. "We build community."
Gary Klass, a retired ISU political science professor, has been involved in all the collegiate house builds as a project director or faculty adviser. Other collegiate house build project directors over the years have been Hank Campbell, Franz Eckridge and David Bollivar.
In 1995, Klass and a few other ISU and IWU students and faculty members were helping on a Habitat house build when the head of Habitat for McLean County asked if the students could collaborate to build a house.
"We didn't think we could do it," Klass admitted. But they agreed, successfully built a house in Bloomington and have been building at least one every year since then.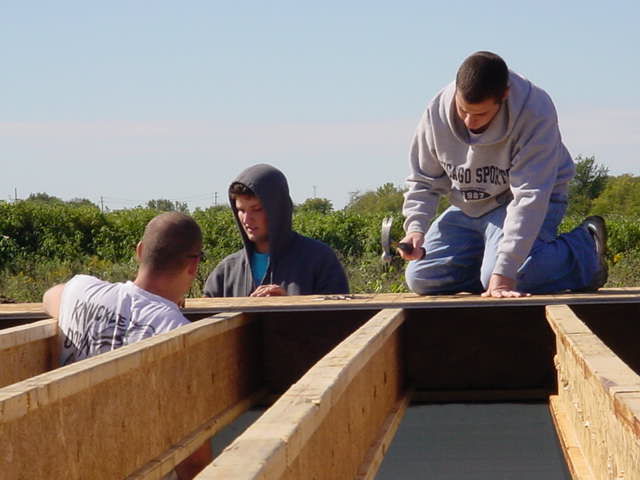 "One year we built two," said Klass.
"The project managers show students the ropes," Sang said. "No experience required."
"All majors are represented," said Zoe McGrath, an ISU senior in communications and co-president of Habitat's ISU chapter.
"The students come out and they barely know how to use a hammer," Klass said with a smile. "But they really get into it and they learn quickly. It's good to see them work with each other and work with the families."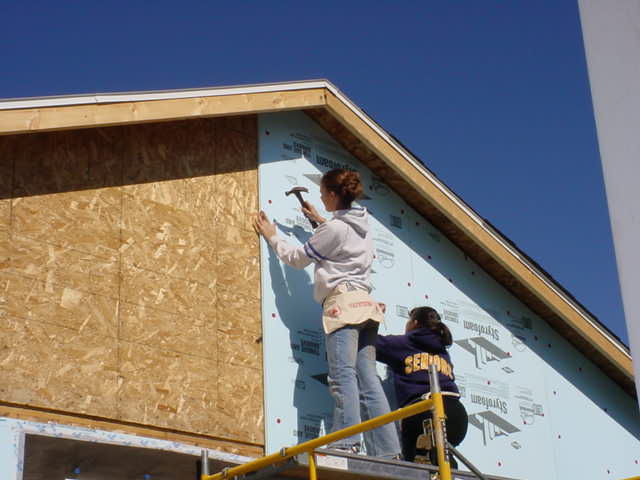 Surface was a Habitat volunteer in high school in Bourbonnais. "I enjoyed doing it in high school and saw the impact it had on families and wanted to do something meaningful for this community," she said. "I like seeing what it (a Habitat home) does for the families and the community."
"It's a great way for students to get involved in the Bloomington-Normal community," McGrath said. "I'm scared of heights. But I climbed up on scaffolding and nailed down floor boards into the frame of a building."
"It's cool literally seeing the house being built from the ground up," said Zachary Lew, an ISU junior in actuarial science and music and the Habitat ISU chapter vice president.
"I'm really proud of this organization," McGrath said. "Being a part of it for four years has been pretty cool."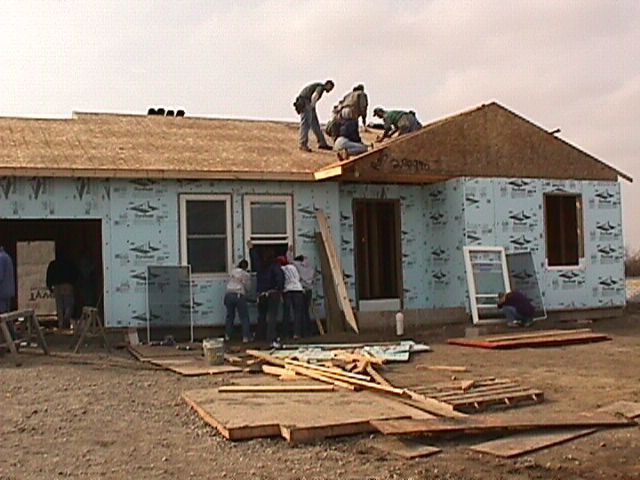 In addition to helping with construction, students also try to raise half of the money needed for construction materials and to pay electricians and plumbers. For the 25th Collegiate House, the students are trying to raise $40,000.
Klass said the support of Habitat for Humanity of McLean County, Bloomington and Normal and the two universities have helped the students to succeed.
"The idea that all people can come together and support a house is powerful," Sang said.
"We can still see faith being put into action here on campus," said Walters.
Contact Paul Swiech at (309) 820-3275. Follow him on Twitter: @pg_swiech