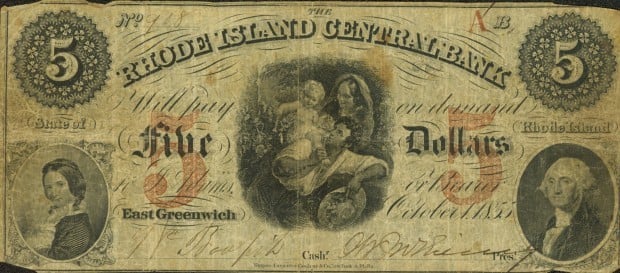 In the decades before the Civil War, money in one's pocket often meant a mishmash of differently colored, strangely named and odd-looking bank notes printed in far away places. Back then most of the money in circulation came not from the federal government, but from a rickety, largely unregulated network of private banks spanning the nation.
Bank notes, printed in various colors and featuring fanciful engravings of livestock, domestic scenes, clipper ships and the like, could be exchanged for the equivalent value in gold or silver coin at the issuing bank. That was the theory. In reality, many of these bills were counterfeit. "Spurious" notes referred to those that were fakes on existing banks, while "altered" notes usually involved those with the numerical denomination surreptitiously changed to increase its value.
More sophisticated con men engraved and printed authentic-looking notes from fictional institutions, or established "wildcat" banks with thousands of dollars of circulating notes not worth the paper they were printed on.
By the 1850s, there were more than 10,000 different kinds of bank notes (or "shinplasters," as they were sometimes called), a disordered currency system that played into the hands of counterfeiters. Attempts were made to reign in the chaos. Newspapers reported on the arrival of fraudulent notes in their communities, while published guides, such as the semi-monthly Chicago Bank Note List, kept those who handled such paper in the know as to what was genuine and what was a fake.
It sometimes seemed as if counterfeit paper outnumbered the legitimate kind. In January 1857, The Pantagraph warned of several circulating, clearly altered notes, including $50s from the Wisconsin Marine & Fire Insurance Co. of Milwaukee (the institution had issued nothing larger than $5s).
In early 1858, the appearance of notes from the Brownsville Bank and Land Co. of Omaha, Neb., caused a stir among the city's merchant class. "Beware of foreign shinplasters" read an open letter appearing in the Feb. 23 Pantagraph and signed by more than 80 local businessmen and firms ("foreign" in this instance meant out-of-state). "We hereby pledge ourselves that we will not take one dollar of it, nor will we deposit with any bank that so far forgets its duty to the community as to receive it or pay it out over its counter."
As was often the case with questionable notes, those who favored a more constricted money supply clashed with those who backed a more open and forgiving one. Accordingly, two days after the open letter The Pantagraph published a lengthy defense of the Brownsville Bank bills as a means to an end. "No man can be ignorant of the severe pressure of the times; no man can fail to discover the great want and scarcity of a circulating medium; no man can doubt that great blessings would result from a reasonable expansion of our currency," proclaimed the anonymous author with the nom de plume "Justitia."
Alas, the Nebraska notes proved phony through and through. "There is no such institution," reported the Omaha Nebraskian newspaper through the pages of The Pantagraph. "It is evidently a bold swindle, and how any bankers could be imposed upon by the trash, passes our comprehension."
It wasn't until the Civil War and the Legal Tender Act of 1862 and the National Banking Acts of 1863 and 1864 that the federal government embraced the idea of a national currency.
Back in the bank note era of the 1850s, there was an ongoing debate, sometimes bordering on the epistemological, over whether counterfeit notes passing as good were such a terrible thing in a cash-starved economy. "It is a favorite maxim with some to 'keep bad money in circulation,' for they say it makes no difference whether a bill is counterfeit or not, so long as it will pass around freely," noted The Pantagraph in early June 1857. "They may be right enough, so far as the money is concerned, but such an excuse would do them little or no good before the criminal court."
Later that same month, a mysterious con artist in his early 20s managed to pass a few counterfeit $5 notes on the Chippewa Bank of North Pepin, Wis. Tailed by local authorities, the sharper's narrow escape — abetted by shaving his "luxurious goatee" and donning a stovepipe hat — was made on a southbound Illinois Central passenger train. At the depot, a ticket agent who overheard a police officer recount the near capture of the suspect exclaimed: "Why, the same fellow gave me one of those bills for a ticket!"
Get local news delivered to your inbox!
Subscribe to our Daily Headlines newsletter.