BLOOMINGTON — Kirk Zimmerman's financial health was deteriorating in November 2014 as he faced another court fight with his former wife over past-due child support, a forensic accountant testified Monday in Zimmerman's murder trial.
Zimmerman is charged with murder in the Nov. 3, 2014, shooting death of his ex-wife, Pam Zimmerman. She was found the next day, shot four times, in her east-side Bloomington office. 
Earlier Monday, witness Maria Legg testified she saw Kirk Zimmerman behind the office building the day of the murder.
Tom Byers, an accountant employed by the FBI, told jurors Zimmerman's expenses exceeded his income from State Farm two years after his 2012 divorce from Pam Zimmerman. At the time of their divorce, the Zimmermans had a combined net worth of about $500,000, according to Byers' analysis.
In 2014, Kirk Zimmerman's net worth was about $109,000, said the report.
According to Byers, the monthly expenses for the 60-year-old defendant in 2014 exceeded his income by $2,800.
Government Reporter Derek Beigh interviews Legal Affairs and Courts Reporter Edith Brady-Lunny about her ongoing coverage of the trial of Kirk…
Defense lawyer John Rogers argued the report was an inaccurate portrayal of Zimmerman's finances. Byers' failure to include Pam Zimmerman's debts in the pre-divorce liabilities was cited by Rogers as an example of the inadequacy of the report the lawyer referred to as "garbage."
Rogers also accused Byers of manipulating debt figures to diminish Zimmerman's net worth, a charge the accountant denied.
Kirk Zimmerman's finances are a key element of the state's theory that he killed his former wife because he wanted to end his child support payments to the victim.
The 79-year-old witness cried as she pointed directly at Zimmerman in the courtroom.
"I saw him ... the man sitting over there," she said.
The man she saw that night looked directly at her at the scene, she said, adding, "I was so afraid."
Legg said she told her husband about the incident, but she did not tell police.
In her more than two hours on the witness stand, Legg could not remember several key pieces of information she provided to police in their interview of her in March 2016.
You have free articles remaining.
Bloomington police learned that Legg may have seen Zimmerman from a person who overheard her talking about the alleged identification of Zimmerman. 
During her testimony, Legg did not waver in her assertion that she saw Kirk Zimmerman in the parking lot, carrying a black plastic bag as he exited the office building. She said he walked to a black car — a detail that is at odds with the fact Zimmerman's car was a silver Hyundai Sonata. 
In his 90-minute questioning of Legg, Rogers challenged Legg about several portions of her statements to police and her repeated responses in court indicating she could not remember details of what she told detectives.
Rogers told Judge Scott Drazewski his questions were aimed at impeaching her testimony that has referred to as unreliable and bizarre in previous court hearings. In a pretrial hearing Monday to hear defense objections to Legg being called to testify, Rogers cited previous testimony from Legg's husband suggesting she is "emotionally unstable."
At several points during his questioning, Rogers became aggressive toward Legg when asking her why she did not go to police after she learned that Pam Zimmerman had been killed in the office building the same evening she was in the parking lot.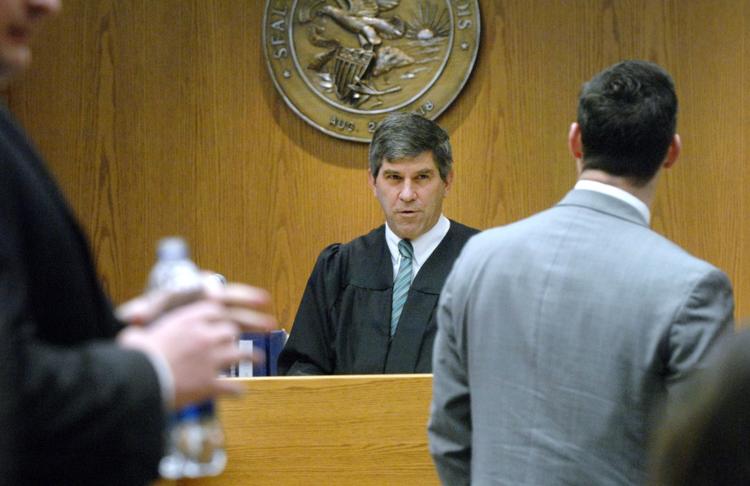 Legg said she told her husband, who advised her to "forget it."
The attorney and the witness sparred after Legg volunteered that she had seen Pam Zimmerman in 2012 when the victim allegedly looked at a coffee table at the Legg's garage sale. Legg did not tell authorities about the chance encounter until February 2017 — more than a year after she was first confronted by police about seeing Kirk Zimmerman.
"She was in my house," Legg said, breaking down in sobs, before adding "why did it have to be me?" in reference to her involvement in the murder investigation.
According to Legg, Pam Zimmerman was looking at the table "for her children," who were in high school at the time of their mother's death. Legg's response drew looks of confusion from Zimmerman's son and daughter, who were in the courtroom sitting behind their father.
Near the end of Rogers' questioning about her disclosure of meeting the victim, Legg became defiant, telling the lawyer, "I don't want to hear no more."
Legg ended her time on the witness stand by recalling her description of Zimmerman's hair. She said she told police "he has hair like Liberace," the late pianist.
Retired Associate Judge Lee Ann Hill is expected to be among the state's witnesses Tuesday. 
---
Photos: Eye witness places Kirk Zimmerman at scene of ex-wife's murder