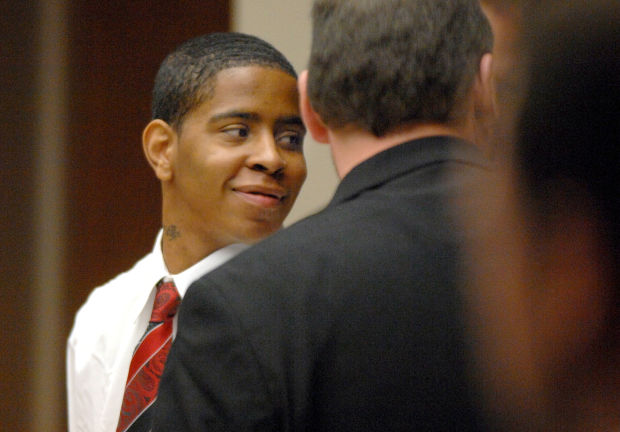 BLOOMINGTON — A McLean County jury will continue to deliberate today in the case of a 21-year-old Normal man accused of attempted murder, home invasion and aggravated battery in an October 2012 shooting incident that left four people injured.
The prosecution wrapped up its case Monday morning with testimony from Bloomington police Detective Steve Fanelli, who described interviewing several witnesses after a party at an apartment in the 1100 block of Gettysburg Drive, Bloomington. The investigation led them to arrest Ross Johnson, but in court many of those witnesses said they gave police false information about the incidents at the party.
According to prosecutors, Johnson and his brother, Malcolm, were in a group that was asked to leave the party attended by as many as 60 people. The expelled people allegedly forced their way back into the party, and prosecutors say Ross Johnson fired four shots through a door.
On the stand, Fanelli said in the days following the shooting, several witnesses identified the shooter as a man they knew as "Ballhead."
"The witnesses identified Ballhead as Ross Johnson," Fanelli said.
Under cross examination from defense lawyer Brendan Bukalski, Fanelli was asked how extensive of a search he did for others who may go by the same name. Fanelli said he searched a McLean County database for the name, but all references came back to Johnson.
"It's a unique nickname in my opinion," he said.
The defense did not call any witnesses.
Shanieka Mason, Chris Lipscomb, Preston Bellamy and Kwaan Mason were wounded when Ross Johnson allegedly opened fire in the apartment, according to prosecutors. All recovered and testified, but during testimony, they stopped short of identifying him as the shooter.
In closing arguments, McLean County Assistant State's Attorney Kevin Sanborn told the jury that many of the witnesses were intimidated by Ross Johnson, pointing to a phone call Johnson allegedly made from the jail four days after his arrest.
"He told his associates that it was time to 'step on some toes,' and we all know what that means," he said.
In the defense closing statements, Bukalski argued that there was no evidence the witnesses had been intimidated. He said they were "annoyed" and were unable to recall statements that they made over a year ago.
The jury received the case late Monday afternoon.
Malcolm Johnson was acquitted in May of aggravated battery with a firearm and home invasion but was convicted of criminal trespass.
Sign up for our Crime & Courts newsletter
Get the latest in local public safety news with this weekly email.