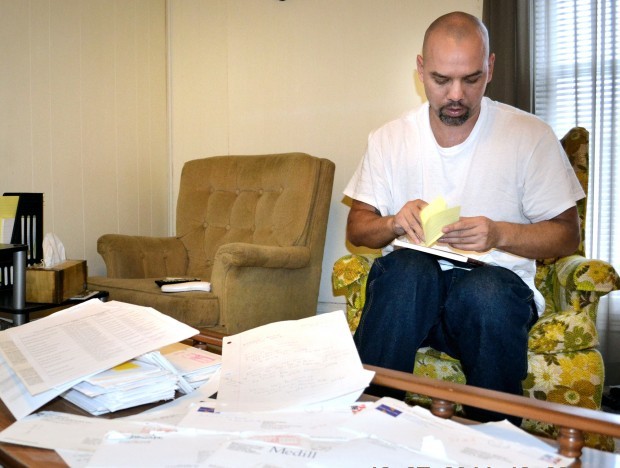 BLOOMINGTON — When Andrew Dubois was confronted by police in March 2000 about a woman's claim that he'd raped her, he offered to take a polygraph test to prove his innocence.
Dubois was disappointed that authorities turned down the request for the test considered too unreliable for admission in court. But he continued to proclaim his innocence throughout a bench trial that led to his conviction on sexual assault charges, and through almost a dozen years behind bars.
Now a 39-year-old registered sex offender living in a Bloomington apartment while anchored to a state-issued GPS unit that monitors his movements, Dubois is working to clear his name.
He points to two elements of his case as indicators of his innocence: the positive results of a recent polygraph he took at the request of his parole officer; and DNA test results filed in court two months after he was sentenced. The case also has gained the attention of the University of Chicago's Innocence Project, which is reviewing the matter, said Tara Thompson, an Innocence Project attorney.
Dubois' lawyer at the time, John Wright, said he did not recall details of the 12-year-old case. McLean County State's Attorney Ron Dozier, who was not in office at the time, declined comment.
On March 31, 2000, a woman told police she and two others took a ride home from Dubois after a night of drinking at downtown bars. After dropping one person off, she and a male friend of Dubois ended up at his Bloomington apartment. She said Dubois dragged her into his bedroom and forced her to have sex. The assault ended, she said, when she asked to go to the bathroom.
"I hurriedly looked around for something to put on because I did not want to run out of the house totally nude. I saw the defendant's jeans on the floor. I quickly pulled them on," and escaped through the back door, the woman testified.
Police became involved when she knocked on a neighbor's door, crying and saying she'd been raped.
Dubois and the other man had a different version, describing consensual sexual contact both of them had with the woman before Dubois drove the man home. Dubois said she left her clothes behind and left wearing his jeans.
An emergency room doctor who examined the victim found no signs of injury, but documented behavior consistent with a sexual assault victim. Her reaction weighed heavily on the ruling by now-retired Judge Michael Prall to convict Dubois.
"There was no evidence presented that there was anything that would be sufficient explanation as to why the victim would go to these lengths to put herself through this process," Prall said in his ruling.
The judge also noted that Dubois hid from police who came to his apartment to investigate the complaint. Dubois said he was worried police were there to serve a warrant for traffic offenses in Tazewell County.
For convicted sex offenders who maintain their innocence, the challenge begins with their release from prison on mandatory supervised release, formerly known as parole. If a condition of the release is sex offender counseling, an admission to the offense is required to participate in therapy — something Dubois refused to do.
"They said I wasn't participating in classes because I was talking about my case and what I was going to do to prove my innocence. But I wasn't about to admit to something I didn't do," he said.
The decision to keep fighting for exoneration, or to go along with MSR requirements can be a difficult one, said Bloomington attorney Stephanie Wong, who routinely represents clients accused of sex offenses.
"If your goal is just to get through the class, you have to admit the offense. It's obviously difficult for those who want to stick to their convictions and maintain their innocence," said Wong, who is not involved in Dubois' case.
The dispute between Dubois and his parole agent over the classes landed him back in prison for four months. At a March hearing, the Illinois Prisoner Review Board ruled Dubois was not in violation of his release and, before he was freed in May, he talked with parole staff about how he could avoid future problems with the classes. He was asked to take a polygraph test.
Since 2004, sex offenders in Illinois have been required to take polygraph tests as a way to monitor their truthfulness. They may be asked about current behaviors and their compliance with the conditions of their supervision as well as details of their offenses.
Dubois agreed to the test. On May 24, he took and passed the test in Springfield. The state has since dropped sex offender classes as a condition of his release.
"I've been waiting 12 years to get this done. I've got DNA and a polygraph. What are they going to do next, break out a Ouija board?" asked Dubois.
For Dubois, the question of DNA evidence is a key part of his innocence claim.
At his October 2000 bench trial, a state crime lab analyst, Jennie Hahn, testified about initial tests indicating that no DNA profile other than the victim's was found on items examined by Hahn, who said she forwarded vaginal swabs on for additional DNA testing.
A final DNA report filed in December confirmed the earlier findings that Dubois' DNA could not be found on the evidence.
At one point in the proceedings, former prosecutor Christian Picone and Wright agreed the pending DNA results could affect the outcome of the case, according to trial transcripts.
"They said that charges could be dismissed short of a trial. It was my understanding they were just waiting on the results," said Dubois.
But Dubois' appeals have been rejected based on rulings that the state's witnesses were credible and the forensic findings were consistent with the type of sexual activity claimed by the victim.
As things stand now, Dubois will remain tethered to the GPS device for another 17 months. He must receive prior approval to leave his house — 24 hours notice for a confirmed job interview and three days for other activities. After the GPS is removed, he will be required to follow sex offender rules.
At least one job opportunity fizzled because of the conviction, he said.
"I had enough experience, but they keep passing me over because of this case," he said.
Dubois' aunt, Karol Bowser, who lives in Michigan, is helping her nephew.  The GPS limitations make those efforts much more difficult, she said.
"I don't know how they expect him to live, locked up all the time in his apartment. He's essentially been mummified," said Bowser.
Sign up for our Crime & Courts newsletter
Get the latest in local public safety news with this weekly email.