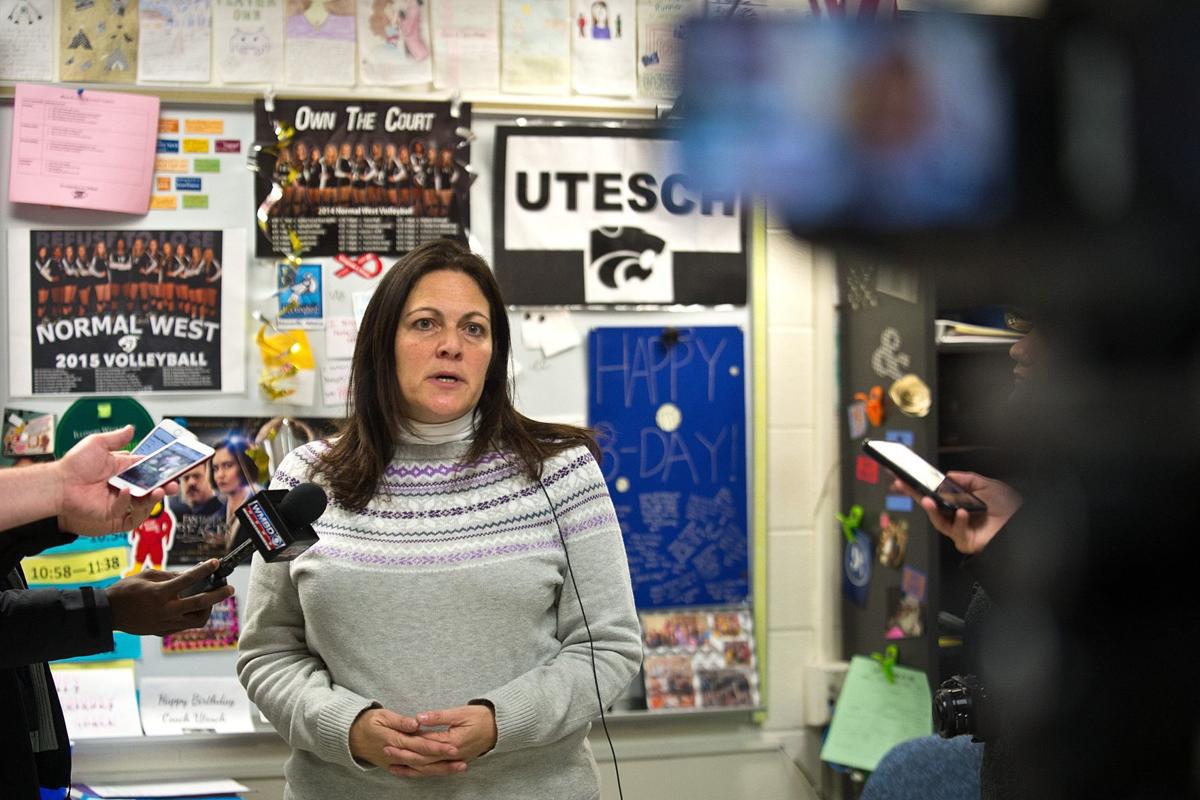 NORMAL — Normal police have received additional calls since a Unit 5 teacher was arrested last week and accused of sexually assaulting at least two children.
Meanwhile, Unit 5 officials have sent letters to parents advising them of resources available for talking with their children.
Hovey is charged with two counts of predatory criminal sexual assault and four counts of aggravated criminal sexual abuse. He has been on paid administrative leave since April and remained in McLean County jail in lieu of posting $10,035.
Attorney Tristan Bullington, who will represent Hovey, declined to comment Saturday and said Hovey also had no comment.
The accusations date to 2005, according to court records.
"As of this point, there is nothing new and when you have a case such as this, it takes some time to do a thorough and proper investigation," Bleichner said Monday. "We will continue to look into any and all new information."
Unit 5 spokeswoman Dayna Brown declined to answer questions about whether parents were notified at the time the teacher was placed on leave and if not, why not; whether the matter will be discussed at meetings with teachers and staff before school starts; and whether any changes in policies or practices are under consideration in light of the arrest.
In an email, she said, "This is a very serious case and an ongoing investigation. While we understand there is a desire for more information, we do not want to do anything to compromise the police investigation."
Brown said a note was sent to Glenn parents and staff members on Saturday afternoon and there was a staff meeting at the school on Saturday afternoon. The district released a public statement that day after court documents were released to local media.
You have free articles remaining.
In a follow-up letter sent to parents and staff on Monday and provided to The Pantagraph by Brown, Glenn Principal Cari Oester wrote: "We know this is a difficult conversation to have with your child. To help with that conversation, Unit 5 recommends reviewing the parent resources available on the Erin's Law website." The website is www.erinslaw.org. 
YWCA Stepping Stones administers the program through a contract with Unit 5.
Normal police have asked anyone who may have information or who believes Hovey had inappropriate contact with them to contact Detective Kendra DeRosa at 309-454-9624 or kderosa@normal.org.
In a statement issued Saturday by Brown, she said the district first learned of allegations against Hovey in April and administrators immediately contacted Normal police and the Department of Children and Family Services and placed Hovey on administrative leave.
According to court documents, the mother of the most recent student said her daughter told her that the girl's first-grade teacher touched her through her clothes and also had her touch him. These incidents allegedly occurred at the teacher's desk more than 50 times, the documents said.
During the police investigation, a detective "was made aware" of a similar allegation in 2005 against Hovey for which no charges had been filed.
The student in that case, now 21, told police substantially the same story as the more recent student, according to the documents. The classroom layout allowed the touching to occur out of sight of other children, according to both, and a detective verified that when during a summer classroom visit.
Under current state law, the teaching certificate of someone accused of certain crimes involving abuse or neglect of a child retains their license while the the Illinois State Board of Education awaits the outcome of a DCFS or criminal investigation.
A bill awaiting the governor's signature, Senate Bill 456, would give the ISBE authority to immediately suspend an educator's license if they are charged with offenses under Section 21B-80 of the Illinois School Code, which includes certain sex crimes, drug offenses and Class X felonies.
Kevin Barlow contributed to this report.
Contact Lenore Sobota at (309) 820-3240. Follow her on Twitter: @Pg_Sobota