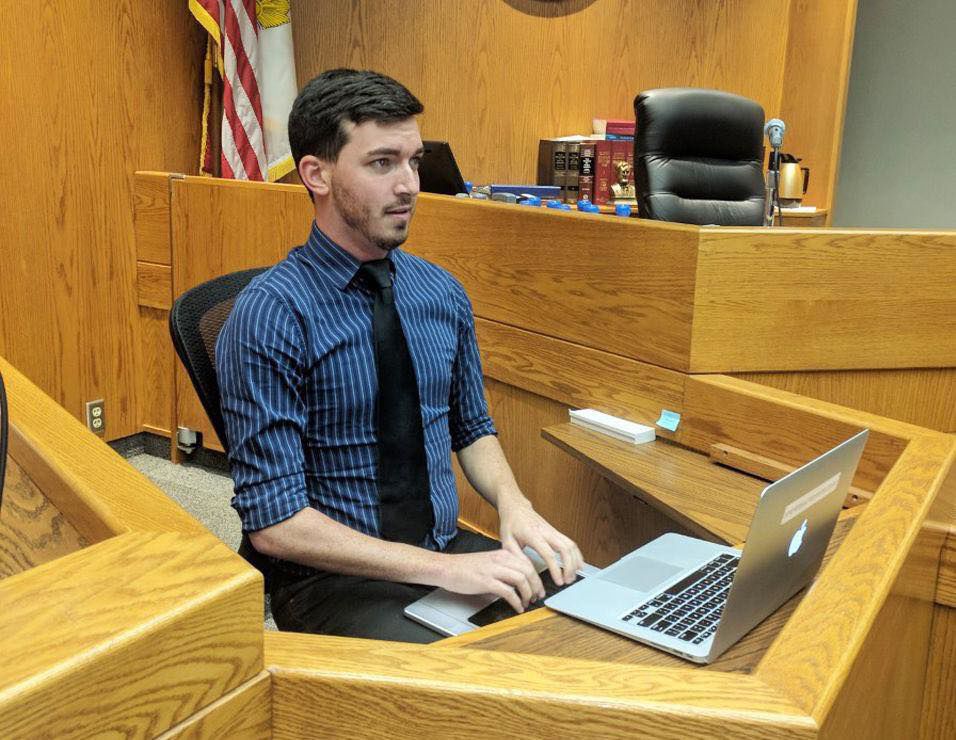 BLOOMINGTON — Isaiah Roberts chuckles when he hears it, but still remains humble and proud when people call him "a rising star in the court reporting world."
The truth is, Roberts, 25, likely would be a rising star in any world he entered. For now, he is more than satisfied even if it wasn't his first career choice.
His mother was a court reporter in LaSalle and McLean counties, among others, so the young Roberts always had a fascination with the legal system.
"I went to school and got my undergrad in marketing," he said, overlooking he was 15 when he entered Illinois State University and was the school's youngest graduate at 19 with a bachelor's degree. "My plan was always to go to law school. I love the law and was determined that was what I wanted to do."
But during his last semester, as he was applying to law schools, he looked at the number of lawyers entering the workforce and wondered if the profession was becoming oversaturated.
So he took a closer look at his mom's career.
"I realized that maybe I had overlooked that," he said. "It had many of the things I was looking for, such as being interesting, dealing with the law and, in addition, there was a high demand for workers."
Some 2 1/2 years later, just a month after his mother retired, he passed his state certification test and began working at the McLean County Law and Justice Center.
"I think I actually took her job," he said, "but I love it."
Now living in Chicago, Roberts is in demand for higher profile depositions and trials and frequently travels across the country for work. Last week, he was one of the keynote speakers at the Illinois Court Reporters Association convention in Springfield.
"He is really amazing," said Tammy Bumgarner, director of court reporting services for the Administrative Office of the Illinois Courts. "It's not a fluke that he is a rising star in this industry."
Roberts enjoys the challenge of focusing on his task, but also following closely the complex and difficult trials.
"Sometimes, you can't really pay attention to what you are writing because you have to focus so much on what is being said and accurately recording it," he said.
"I (had) just finished an hour of court reporting and the secretary asked me the witness's name, but I couldn't recall it off the top of my head, because when you are working, you are just focused on what is being said so much," he said.
Almost 90 percent of all court reporters are women, but Roberts knows that men can do the job, too.
"I love my job but I get to travel, I do some captioning — which is live captioning for live television shows — and I wish people would know about all of the opportunities there are for court reporters," he said. "It frustrates me that we have a shortage of reporters. People have the wrong idea that it is going to be replaced by audio recordings, but I don't see that happening. There are so many parts of this industry that are growing."
Contact Kevin Barlow at (309) 820-3238. Follow him on Twitter: @pg_barlow
Sign up for our Crime & Courts newsletter
Get the latest in local public safety news with this weekly email.