BLOOMINGTON — A judge on Tuesday reduced Donald Whalen's bond from the $2 million set last week after Whalen's 1991 murder conviction was reversed.  
The new bond is $1 million, meaning Whalen can post $100,035 to get out of McLean County jail, where he's currently being held. He would be placed on electronic monitoring and home confinement if released.
Defense lawyer Elliot Slosar argued that Whalen deserves to be free while prosecutors decide if Whalen will face a second trial on charges accusing him of killing his father. That decision is expected at a March 15 hearing. 
Slosar asked for a no-cash bond or, if cash was required, that it be no more than $100,000, an amount that requires $10,035 be posted.
With only about a year left to serve on his sentence, Whalen is not a flight risk, said Slosar, nor is he a risk to public safety if released.
"For 27 years he's tried to clear his name," said Slosar. 
If the state decides against a second trial, charges will be dismissed against Whalen and he will be released. As an exonerated person, he would be eligible to apply for a certificate of innocence from the state and, if granted, receive about $200,000 compensation for his time behind bars. He also could apply for clemency from the governor.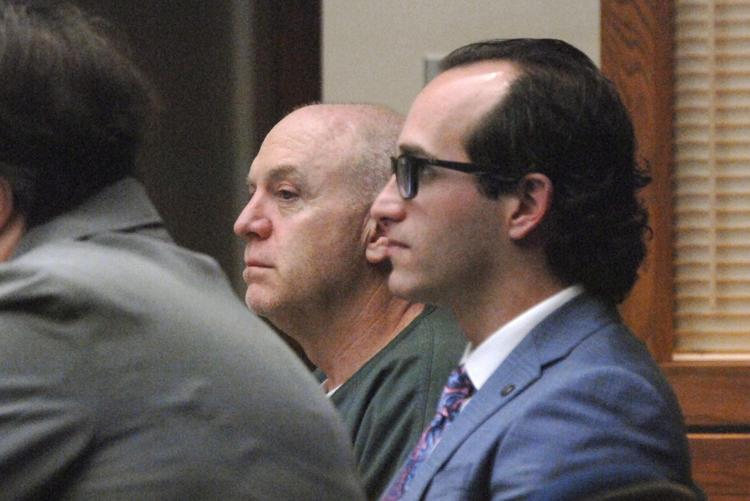 A chart presented in court Tuesday by Slosar showed bonds set in similar cases where a person's murder conviction was reversed.
Among those on the list is Alan Beaman, whose conviction in the 1993 death of his former girlfriend, Jennifer Lockmiller, in Normal was reversed in 2008 by the Illinois Supreme Court. Beaman was released after posting $25,000, and the state ultimately dismissed the murder charges.
The 13 defendants in 10 other murder cases were released after posting amounts ranging from $30,000 to no cash, according to the defense exhibit.
A social worker who works with exonerated clients at The Exoneration Project testified that she has met with Whalen and his family and would help link him to employment, medical and social services in McLean County.
Assistant State's Attorney David Rossi asked that the bond remain at $2 million.
"This is a murder case. The defendant still remains accused of murder at this time," he said.
In his ruling on the bond request, Judge Scott Drazewski acknowledged McLean County's history as being among the counties that set the highest bonds in the state. The judge said he considered only the factors in the Whalen case when making his determination.
"Things will get sorted out here shortly," said the judge, noting that both sides have decisions to make on possible appeals of his recent ruling on a new trial and the bond.
"The clock is ticking and we'll have a trial that will be starting within 120 days," said Drazewski, referring to Whalen's request for a speedy trial. 
After the ruling, defense lawyer Tara Thompson said the lowered bond represents "a lot of money for any family, especially a family like the Whalens who have worked hard all their lives. We're going to do what we can."
Whalen has denied the state's accusations that he went to the downtown Bloomington bar owned by his father, Bill Whalen, after closing time and stabbed him more than 30 times. The victim had also been beaten with a pool cue.
In his ruling granting a new trial, Drazewski sided with defense arguments that results of DNA tests excluding Donald Whalen from all items examined at the state police crime lab is new, relevant and material evidence.
The same finding was made by the judge related to a controversial palm print a former crime lab expert said he located on a piece of broken pool cue. No tests were performed to determine if the palm print impression was actually left in blood, the judge noted.
At Whalen's bond hearing, Slosar said, "Donald Whalen is not only presumed innocent, he is innocent. The DNA excludes him and the print is not in blood."
Records of phone calls between Bloomington police and Dierker raise questions about an apparent shift in Dierker's initial opinion about the palm print, according to the defense. His opinion that the print was inconclusive as to the victim changed to a positive identification as to Donald Whalen during the trial.
The hearings where lawyers with the University of Chicago's Exoneration Project laid out their case for a new trial, included a stunning exchange in which a man considered a potential suspect in the murder refused to answer questions on the witness stand.
Robert McElvaney of Bloomington invoked his constitutional right to protect himself from making incriminating statements about the death of Bill Whalen.  Slosar posed 35 specific questions accusing McElvaney, a regular patron at the bar, of seeking revenge for being ejected from the bar by the victim hours before the killing. 
In a statement provided to The Pantagraph after the ruling, Donald Whalen thanked his family, his attorneys and the judge.
"The ball is in the state's hands now. Shortly we will know whether the state moves forward with a new trial as ordered, or will the state dismiss the charges. I take comfort in knowing that I have the Exoneration Project in my corner and that they are ready for whatever is next. As for me, I know that soon I will begin making up time I lost with family. I now have grand daughters who deserve to be spoiled rotten, and that's exactly what I plan to do," said Whalen's statement.
---
Photos: Donald Whalen seeks new trial in murder of father