BLOOMINGTON — Police considered Kirk Zimmerman a suspect in the shooting death of his ex-wife soon after her body was found, but other suspects were possible, his defense lawyer told a jury Wednesday. 
Defense lawyer John Rogers questioned Bloomington police Sgt. Tim Power about the steps law enforcement officials took in the early stages of the investigation, including during two videotaped interviews police had with Zimmerman on Nov. 4 and Nov. 10, 2014.  
Power acknowledged Zimmerman was a priority among three men for investigators' attention in the hours after the victim was found. Officers later talked with Eldon Whitlow, the victim's final client at her financial services office, and Scott Baldwin, her fiancé.
On Nov. 4, hours after her body was found, Zimmerman was interviewed for seven hours by two detectives. He asked repeatedly to see his children and was told they were at the Children's Advocacy Center (CAC). Power testified he was unaware that other officers told Zimmerman his children were at the police station.
Rogers suggested Wednesday that police did not question Zimmerman at the CAC because "you were treating him like a criminal suspect in a murder case." Power disagreed with that statement. 
Power acknowledged Zimmerman cooperated with police by coming to the police station twice for interviews. The defendant also provided a DNA sample and allowed an officer to swab his hands for gunshot residue after his initial hesitation to comply.
Zimmerman's second visit to the police department, this time with a lawyer, came after he had been out of his home for six days while police searched it. His car, cellphone and computers were seized.
Following the Nov. 4 interview, a Bloomington police officer dropped Zimmerman at a hotel, Rogers told jurors.  
During cross-examination, Rogers questioned Power about other possible suspects and asked if they received the same treatment as Zimmerman. Rogers pointed out that during the investigation, Zimmerman's financial records were heavily scrutinized, but the personal matters of other potential suspects, such as Baldwin and Whitlow, were not investigated.
"You did not seek the credit card records for Whitlow or Baldwin, did you?" he asked. Power acknowledged that investigators did not seek those records.
Rogers also questioned Power about the investigation into two other people with potential motives.
Power acknowledged that investigators spoke with Dave Phillips, a man with whom Pam Zimmerman exchanged emails on a dating site, and Cynthia Conroy, a woman who was connected to Baldwin. Rogers suggested that Conroy would have had a motive for murder in an attempt to remove a romantic rival.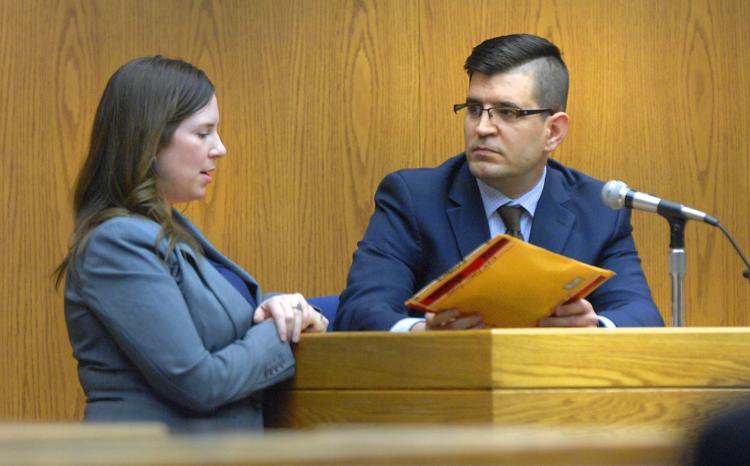 Photos: Opening statements in the murder trial of Kirk Zimmerman