BLOOMINGTON — In a series of 35 questions Monday during Donald Whalen's hearing seeking a new trial, his defense lawyer accused another man of killing Whalen's father in 1991.
That man, Robert McElvaney of Bloomington, was called to testify at the hearing. In response to each question, however, he asserted his constitutional right not to answer, based on the possibility that his answers could incriminate him.
After nearly 30 years in prison, Donald Whalen is presenting his case for a new trial in the slaying. He is nearing the end of the term he is required to serve on his 60-year sentence.
Defense lawyer Elliot Slosar's questions started with an inquiry as to whether McElvaney was "filled with rage" after Bill Whalen forced him to leave what was then the Twenty Grand Tap, a downtown Bloomington bar Bill Whalen owned when he was killed in April 1991.
The seriousness of the accusations built to the point of Slosar asking McElvaney if he was the person who stabbed the victim more than 30 times.
Among the questions the Bloomington man declined to answer: "Isn't it true you killed Bill Whalen sometime after 2 a.m. on April 6, 1991?" 
McElvaney also was asked about statements he made to Bloomington police officers when they came to his door after Bill Whalen's badly beaten body was found by an employee.
McElvaney was asked if he recalled telling officers, "I wouldn't hurt Bill Whalen ... what did I do?"
McElvaney was accompanied in court by his Bloomington lawyer, Hal Jennings. After his client was excused without offering testimony, Jennings told The Pantagraph that refusing to answer questions was in McElvaney's best interest.
"Once you open the door, it's open all the way," Jennings said.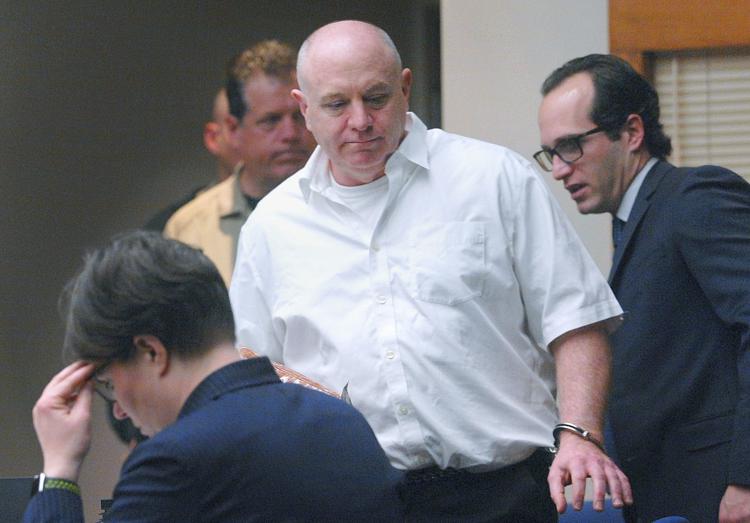 Defense lawyer Tara Thompson asked McKinley about how several knives and pieces of two pool cues were processed as evidence. A key argument of Whalen's petition for a new trial involves McKinley's opinion as to how a palm print was left on a pool cue used to hit the victim.
At Whalen's trial, McKinley testified that blood already was on a pool cue when a hand — allegedly Donald Whalen's — grabbed it, leaving a palm print. 
The defense has questioned how an Illinois State Police crime lab scientist determined that no other person could have left the palm print. The scientist, John Dierker, was scheduled to testify Monday afternoon, but the hearing was continued until Tuesday after a water main break at the Law and Justice Center closed the building.
McKinley said Monday he did not recall any phone conversations with Dierker about the crime lab analysis of fingerprints. After he was shown Dierker's records of the calls, McKinley acknowledged the two had talked, noting it's been 28 years since he worked on the case.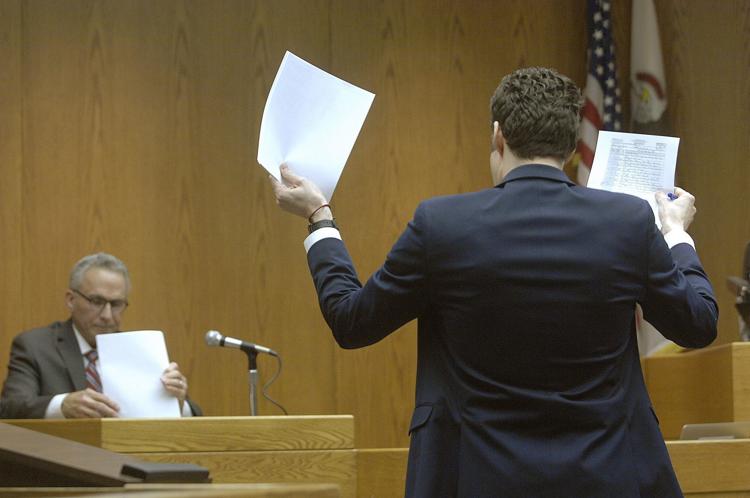 McKinley, who now leads the St. Charles, Mo. police department, also was asked about documents prosecutors used to prepare him for his 1991 trial testimony.
The documents were in a batch of records obtained by the defense within the past two years in response to a subpoena to the Bloomington police. McKinley said he had no idea why police had the trial preparation records.
The documents, characterized as "a script" by the defense, included McKinley's handwritten note to "go ahead and say it's blood," referring to a red stain he observed on the broken pool cue and a prosecutor's direction on his testimony. 
"I've never been told what to say," said McKinley, adding that he has never committed perjury.
McKinley also was asked about the collection of fingerprint samples collected from Bill Whalen's hands, an issue raised in a 2018 affidavit filed by Dierker in which he said he lacked a suitable print for comparison with the palm print.
McKinley said a complete set of prints was taken from the victim as part of the autopsy process.
A state police crime scene technician worked with McKinley "to make sure we had what John Dierker needed" for his identification of prints in the case, said McKinley.
The defense has argued that Bill Whalen's prior interactions with police produced fingerprints police should been able to access during the investigation.
During cross-examination by Assistant State's Attorney David Rossi, McKinley maintained he was careful to package the bent and broken knives in cardboard boxes to protect what would most likely be key evidence in the murder case.
McKinley said he would not alter his handling of the Whalen case.  
Two defense experts are scheduled to testify Tuesday on DNA and fingerprint issues. The state has two witnesses who will address the same issues from an opposing viewpoint.
---
Photos: Donald Whalen seeks new trial in murder of father