BLOOMINGTON — Hours after his ex-wife was found dead in her east-side Bloomington office, Kirk Zimmerman was asked by police if he had killed her.
He denied being involved in her death.
An interview of the 60-year-old suspect was played in court Tuesday in Zimmerman's trial on murder charges in the death of Pam Zimmerman, from whom he was divorced in 2012 after 20 years of marriage.
Bloomington police spent about seven hours with Zimmerman on Nov. 4, 2014, covering a wide range of topics, including reasons for the divorce and his whereabouts the previous evening.
Detectives Tim Power and Michael Johnson assured Zimmerman they were conducting interviews to exclude as well as identify suspects in the woman's death.
But questions posed to Zimmerman after several hours indicated police had developed information that Zimmerman's car may have been seen in the area of 2103 E. Washington St., the building where his ex-wife worked, around the time she was shot four times.
Zimmerman was asked, "Did you murder your wife?"
Zimmerman initially refused to submit a swabbing from inside his cheek for DNA testing and to allow police to swab his hands for traces of gunshot residue, but he complied with both requests later in the interview.
Zimmerman reminded officers multiple times that he was told he was going to the police station to see his three children.
"Is this genuine? Are you guys really going to take me to my kids?" Zimmerman asked them.
The officers repeatedly told Zimmerman his teenage children were at the Children's Advocacy Center and would be available soon to see him.  
Zimmerman also asked officers for advice in helping to talk to his children and helping them cope with the loss of their mother.
Zimmerman did not provide an answer to detectives as to when he last had contact with his wife.
The meeting was marked by long pauses as Zimmerman struggled to answer certain questions, including whether he had left his residence the night before the homicide. 
Saying he needed time to "recharge his batteries," Zimmerman offered to put together a timeline of his activities the night his ex-wife was shot.
"I don't even know what happened to Pam so you can exclude me (as a suspect)," Zimmerman told Johnson.
You have free articles remaining.
Zimmerman asked to see his three children at least six times during the initial two hours of the meeting, and he was asked directly if he had harmed his former wife.
"Never did, and she never hurt me, neither," said Zimmerman.
Missing from Zimmerman's responses was the fact that his then-girlfriend Kate Arthur had spent several hours with him the night of the shooting. Arthur is believed to be a potential alibi witness for Zimmerman.
She told police she went to his home shortly before 7 p.m. but left after he did not answer the door. She went back a short time later after Zimmerman contacted her, according to previous court testimony.
Zimmerman said he was asleep when his girlfriend arrived the first time.
The jury also saw a second interview conducted several weeks later in which  Zimmerman was accompanied by Bloomington lawyer John Schwulst. In that meeting, Zimmerman provided more specific information — including Arthur's visit.
When asked why he did not initially disclose Arthur's visit, Zimmerman told officers he had privacy concerns and his desire to "just keep her out of this."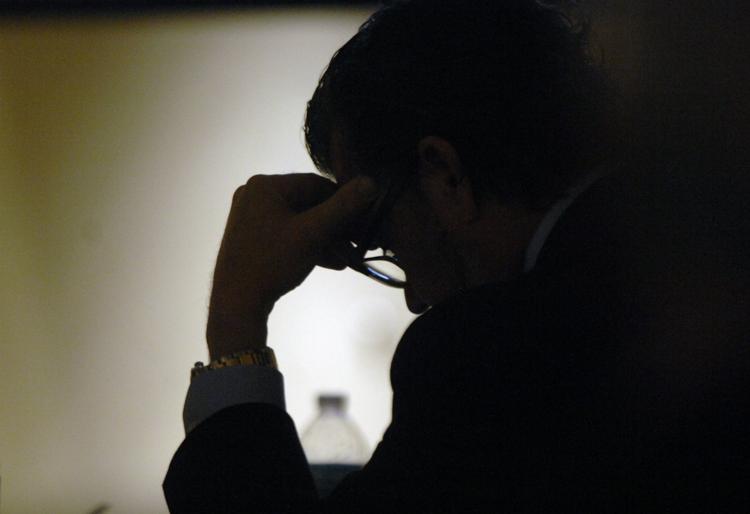 When he was summoned to a meeting with police and his supervisor, Zimmerman initially asked if he was being fired. When told the matter involved a family issue, Zimmerman asked if his three children were all right.
When told his ex-wife was dead, Zimmerman asked if his children knew what had happened, according to the officer's testimony.
The video shows Zimmerman sitting in a police station interview room where he agreed to accompany detectives for the meeting.
In a soft voice, Zimmerman asked about his children. He also asked if his former wife had committed suicide. Police did not disclose how she died. 
---
Photos: Opening statements in the murder trial of Kirk Zimmerman