BLOOMINGTON — Kirk Zimmerman's alibi that he was home resting after a day of yard work around the time his ex-wife was killed in November 2014 was challenged in testimony Monday by an FBI agent.
Special Agent Greg Catey was the state's final witness in Zimmerman's murder trial on charges accusing him of shooting Pam Zimmerman.
The 9 mm gun used to kill the 53-year-old victim at her east Bloomington office was not recovered.
Looking at records showing communication between a device in the defendant's car and cell towers, Catey testified Zimmerman's car was not at home at 6:31 p.m. but was identified by a cell tower as being near the victim's office at 2103 E. Washington St. in Bloomington.
It's possible Zimmerman's vehicle had returned to his home on Park Ridge Road by 6:55 p.m., according to the report.
An area east of Central Illinois Regional Airport also was recorded by a cell tower during the later trip, said the witness.
In his statement to police after his ex-wife was found with four gunshot wounds, Zimmerman claimed he did not leave his home after completing yard work and a nap.
Zimmerman's former girlfriend Kate Arthur has testified she went to Zimmerman's home around 6:30 p.m. for a scheduled visit but he did not answer the door. He returned her call shortly after 7 p.m. and she went to his home for about two hours, she said.
On Oct. 25, 2014, the day after Zimmerman received a FedEx package from his ex-wife demanding $4,000 in past-due child support, he made the trip to Indiana, according to Catey's report. The report shows Zimmerman turning around and returning after a brief stop in the Indiana town.
Jurors heard testimony last week from an expert on illegal gun sales who opined Indiana is a major source of such weapons that end up in Illinois.
The defense has argued Catey's report is based on "junk science" and is unreliable.
In earlier testimony Monday, Bloomington police Detective Bill Lynn showed jurors analysis of Zimmerman's computer that found records of a search he conducted about 10 days before his ex-wife was shot. Lynn said Zimmerman searched the internet for information on how to disable tracking capabilities on his car.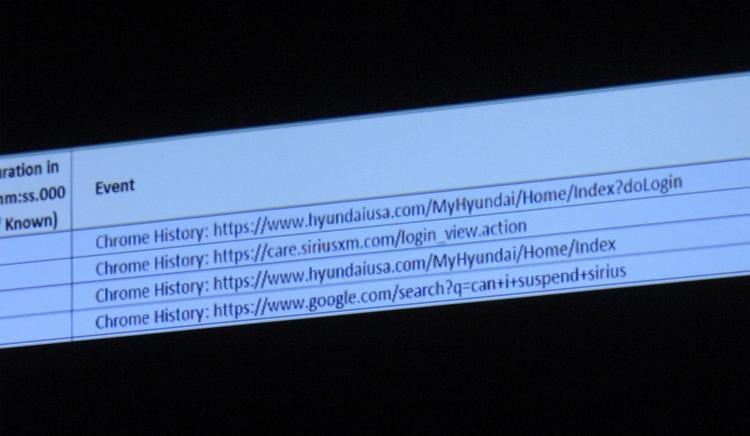 Police contend Zimmerman wanted to avoid the ability of authorities to trace his travel to Indiana.
The jury also saw three short surveillance videos of the parking lot of Pam Zimmerman's office building. The videos, taken by nearby State Farm cameras, show vehicles, including one the state claims is similar to the defendant's 2013 silver Hyundai Sonata.
Lynn was not allowed to point out a specific image on the videos, but he confirmed the displays contained images of interest to police.
The first video showed a car with a sun roof, one feature of Zimmerman's car, in the parking lot at 4:32 p.m. and remaining there for several minutes.
Portions of the video also show a car with a sun roof parked there at 4:37 p.m.
The state has argued that other silver vehicles also were in the area around the time the victim was killed.
First Assistant State's Attorney Brad Rigdon said the state expects to rest its case Tuesday morning. 
Defense lawyer John Rogers told Judge Scott Drazewski he will offer arguments in support of a directed verdict. That could end the trial if Rogers can convince the judge the state has failed to make its case. 
---
Photos: Surveillance video shown to jury in Kirk Zimmerman trial
Sign up for our Crime & Courts newsletter
Get the latest in local public safety news with this weekly email.