NORMAL — A conversation with Parker Honegger could be a little different if you didn't first understand his distinctive sense of humor, and he's turned that into a possible business opportunity.
Parker, a senior at Normal Community High School, is one of 24 Normal high school seniors in an innovative entrepreneurs class taught by Julie Hinman at Normal-based McLean County Unit 5.
At the Sweet Rewards Showcase event on Monday at the Marriott Hotel and Conference Center in uptown Normal, Honegger unveiled Sarcastic Font, his startup business proposition, to the public, teachers, and community business owners.
"My dad works in the mortgage industry," Honegger said. "He shares a lot of stories about things that happen at work. They use email a lot, but sometimes the tone of what the sender is trying to express isn't really conveyed through just the words on a page.
"My dad has a sarcastic sense of humor so I developed a sarcastic font so that he can have a little fun in the workplace but not worry about the backlash of sending something that could be misinterpreted."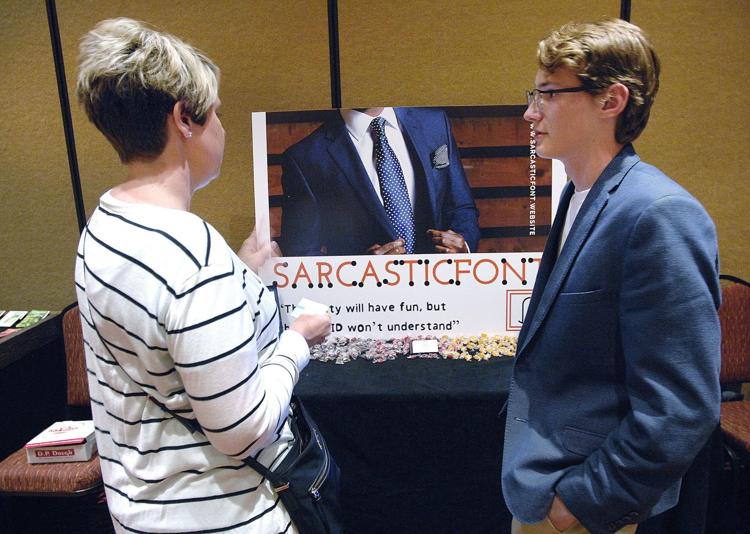 The font features dots on the ends of the letters, announcing it is written with a hint of sarcasm.
All 24 students are seniors, with 12 chosen from Normal Community and 12 chosen from Normal Community West high schools. The class met each day at different Twin City businesses, (about 120 in all), where they networked and learned from businesses and organizations.
"They really learn a lot and do a lot of work investigating how to make a product with as little cost as possible, so they can sell it for profit," Hinman said. "Each year, this program just seems to build and get better and some of their ideas are amazing."
Jacob Haggarty, a senior at NCHS, plans to study finance at the Kelley School of Business at Indiana University.
He has a passion for business and politics, but doesn't like shopping. While he is looking forward to living in a dorm, he hates the idea of having to shop to furnish his new living quarters.
"Guys should have an easy way to make their dorms look cool without all of the hassle of shopping around at various stores and websites," he said.
From that, came "Dude Dorms," and a slogan, "Everything a dude needs, in one box."
The kit design came from focus groups of high school seniors and freshmen in college, he said. To get a woman's perspective, he also talked with a group of moms with high school or college-aged sons.
"The guys want an easy way to have a cool dorm, and the moms are willing to spend a little more to spare themselves some peace of mind in all of the hectic transition of students going from high school to college," he said.
The most popular item he has available, is the Dude Dorms Signature Bedside Cup Holder, he said.
Also thinking of the college-student market, NCHS senior Madelyn Hamara developed an art materials care package kit that can be fitted to meet the needs or wants of young people away from home.
"It might include a small bottle of glitter, a small bag of iced tea mix, a bag of microwave popcorn, but there would be options so the buyer could cater to each individual," she said.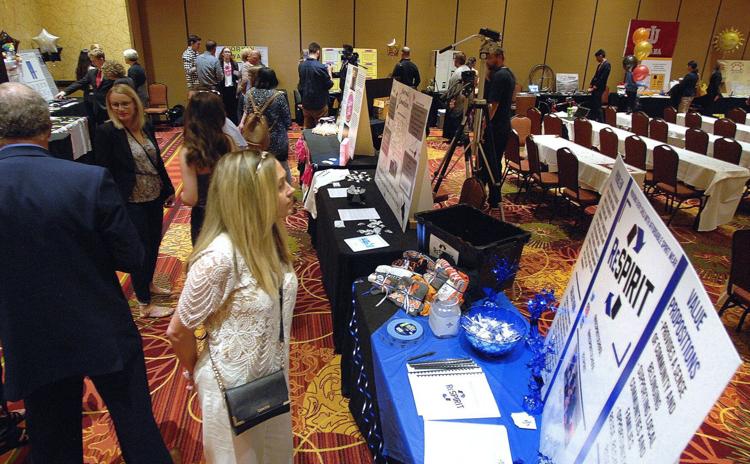 Braden Cook, a senior at Normal West, said he has concerns about the environment. While visiting a friend one night, the two began thinking big picture, he said. From that conversation came the passion to encourage the separation of fuel oil out of algae.
"It's an educational kit for teachers, students and the public about changing the fuels we now use for diesel and gas to a more sustainable option," he said. "Algal biofuels need to be the fuel of our future. We can extract fuels from algae and we need to start doing that more."
"There are a lot of great ideas here and sometimes, these students just need a little tweak or some encouragement or new ideas to further these projects along," he said. "I have been very impressed and this appears to be a great program with some fantastic students."