BLOOMINGTON — Building video games and 3D printing brought a tech-focused DigiGirlz Day to Bloomington for the first time.
More than 30 girls joined the worldwide program offered Saturday by Microsoft, which filled the Open Source Classroom and Play Normal eSports at 802 S. Eldorado Road, Bloomington.
Girls in grades seven through 12 had the opportunity to work with new technology, learn from each other and explore possibilities with the science, tech, engineering and math fields.
"We really see a big need for the future," said Mary Monroy-Spampinato, a community engagement manager at Microsoft. "There's going to be so many jobs that will be open and if we don't start letting girls know what it's about early on, how will they know about these possible opportunities?"
With the help of Open Source Classroom, each girl walked away with a 3D DigiGirlz token in the color of their choice.
The end product gave the girls a beginner's feel for 3D printing and hands-on experience, but they also learned about the creative design side and the endless possibilities of the technology.
In the Play Normal eSports space, members of Power Surge Flash, a junior robotics team based in Bloomington-Normal, led a session focused on project management, using Xbox and PlayStation games as their medium.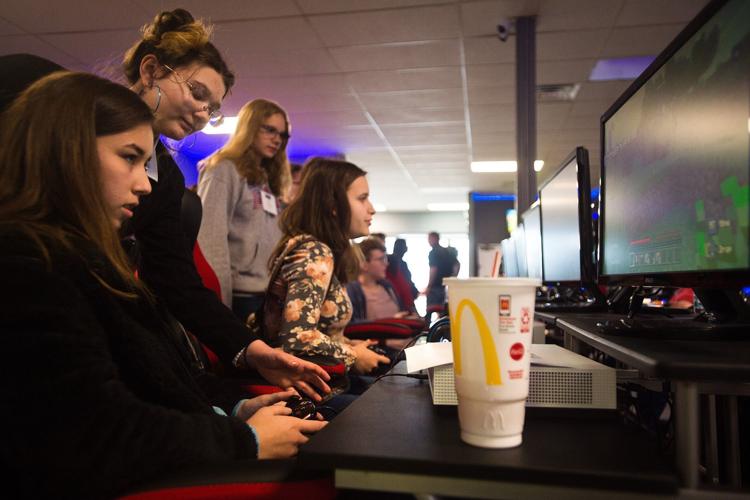 During the session, girls used a workflow tool called a Kanban board to establish communication between teammates and build a virtual portal inside Minecraft.
In between working with the gamers, Satvika Boyina, 14, and Avani Rai, 13, introduced their robot, named Buzz Lightyear, which also utilizes a Kanban board.
While maneuvering through tasks and eliminating enemies in Minecraft, Shannon Haddox, a junior at Central Catholic, said she wanted to participate in DigiGirlz Day because she plans to study computer science in college.
You have free articles remaining.
Others said the sessions took them to a "new level of coding."
"We just want people to know that girls in coding is a thing and we're starting a revolution here," said Sirihaasa Nallamothu, an eighth grader who started the Girls Who Code club at Chiddix Junior High.
She and Lilly McClelland, another Chiddix eighth grader, led girls their age and older through coding programs to give them the opportunity to see what they can do.
"We are the future so they need to know that and they're capable of anything," McClelland said.
Scrolling 2D games, interactive chatboxes (like a text-based Siri or Alexa) and animated snakes covered the coders' computer screens.
At the end of the session, the students collectively discussed the projects they had worked on, giving one girl the opportunity to announce she had made a meme.
"It's just really fun to show other people (how to code). When they understand that their code works, I just want to see their faces," Nallamothu said, wide-eyed and gasping in surprise. "Like 'it works?'"
Part of Microsoft's goal is to broaden its diversity and bring in new perspectives, Monroy-Spampinato said.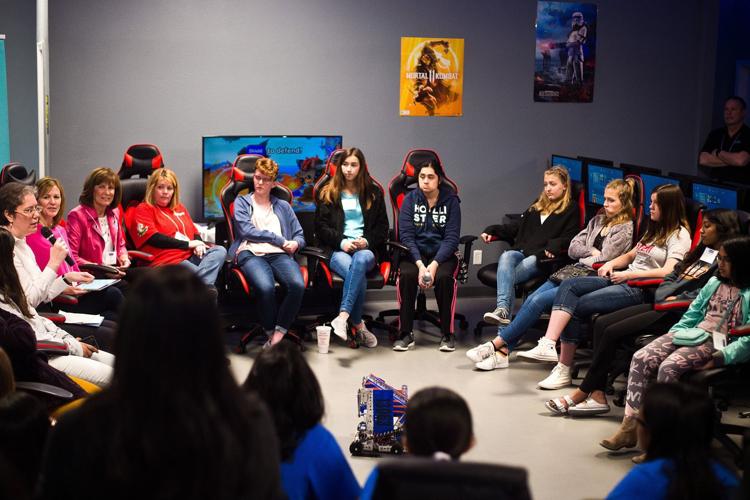 Since women are the minority in the STEM fields, girls often don't see themselves taking on those roles. To address that, DigiGirlz brought in women who are leaders in these fields to talk to girls one-on-one and give them the opportunity to ask questions.
"It's definitely part of Microsoft's goal to really change that whole gap right now in the industry, not just for us but for all tech companies," Monroy-Spampinato said. "And it's just a great opportunity to really share some of what's happening, innovations and things like that."