NORMAL — Two Illinois State University faculty members are working with students on a project that could create a more sustainable construction material that would reduce carbon emissions and recycle discarded glass.
It's all about "the principles of recycling and sustainability," said graduate student Mobi Singh. "We at the college want to make sure we leave the planet better and greener."
The project to use recycled glass as a substitute for Portland cement and fly ash in a concrete-based material called "flowable fill" received a People, Prosperity and the Planet (P3) grant from the U.S. Environmental Protection Agency.
The P3 program is aimed at projects that "can benefit people, promote prosperity and protect the planet by designing environmental solutions that move us toward a sustainable future," according to the EPA website.
Team leader Pranshoo Solanki, associate professor of construction management, said the concrete industry is responsible for about 8 percent of carbon dioxide emissions on Earth.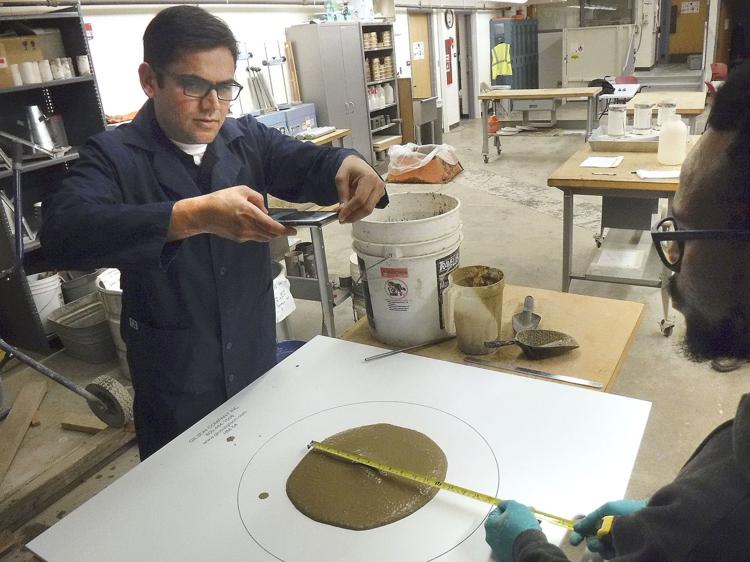 About half of that comes from the fossil fuels used to operate the kilns in which cement is made by heating limestone and clay, he explained. The other half is from the limestone — calcium carbonate — becoming calcium oxide and carbon dioxide after its heated, he said.
The team is testing 15 or 20 different combinations of cement, fly ash and glass, measuring flow rate and strength, to see how much glass can be substituted and still meet specifications.
Flowable fill, also called controlled low-strength material, is used for backfilling trenches and other excavations and for soil-stabilization.
"Use of recycled material is my research area," said Solanki. "That's my passion."
A future project involves finding uses for material dredged from the Illinois River.
Michael Boffo, a junior in construction management from Eureka who wants to be involved in green, sustainable building when he gets out of school, is part of the research team.
You have free articles remaining.
"These are baby steps, but they could be a game changer later on," he said. "By doing this, other people start thinking, 'What else could we use?' … It's a good little spark."
Singh, a graduate student in project management from India, said working with Solanki "inspires us to think with a broader perspective" about "how we treat the whole planet."
Guang Jin, professor of environmental health, and two students from her department also are part of the research team and equipment from the chemistry department is being used.
"It's a collaborative study," said Solanki.
Joseph Aderoju, a project management graduate student from Nigeria, said he likes working on the project "because it's so hands-on. Everything we do is practical. We do the work and see the results. It's not just classroom concepts."
Boffo said, "Being around people who want to leave the world nicer than it was before is a good experience."
The one-year grant is for Phase 1 of the project. Solanki said ISU plans to apply for a Phase 2 grant which would move the project to "the real world."
He said, "We could construct a small test site outside somewhere on campus and see what happens out there when it goes through the freezing-thawing cycle" and compare it with material that does not contain recycled glass.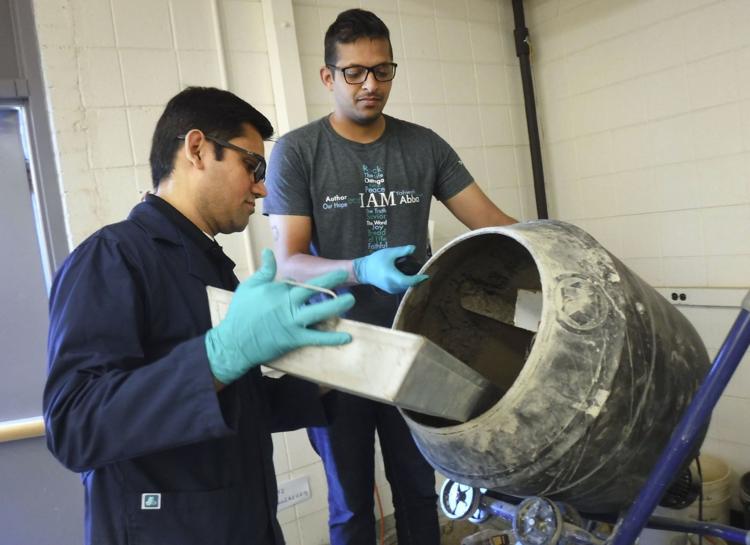 Members of the team will present the results of their research at a conference in Boston in June that will be attended by representatives of government agencies and tech companies.
"Perhaps someone will be interested in our project," said Solanki.
The focus is on helping the environment.
"We don't want to win a prize in a competition," said Singh. "We're trying to make the world a better place."