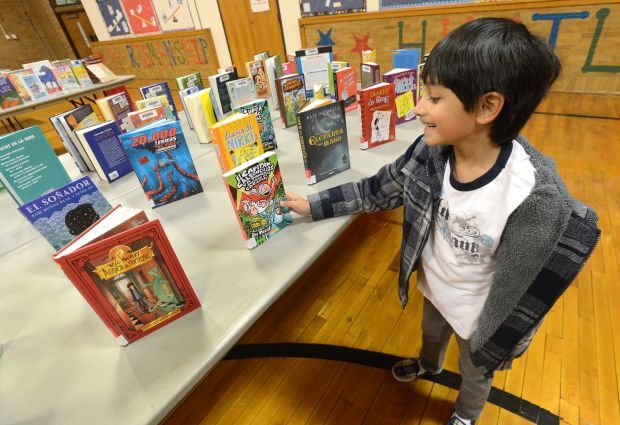 BLOOMINGTON — Karol Marquez is in kindergarten and already loves to read.
"I read for you, OK, Mom?" she asks frequently, choosing a favorite book about a princess.
It's more than OK for mom Jacqueline, who brought Karol and third-grade brother Isaiah to the Beyond the Books "book tasting" Saturday at Bent Elementary School, 904 N. Roosevelt St.
About 75 bilingual students and their families attended a traditional Mexican brunch before heading to the gymnasium to browse a variety of children's books and to sign up for library cards. Each child received a canvas bag to take home a book from the new lending library stocked with 150 titles that include Jules Vernes' "20,000 Leagues Under the Sea," "The Story of the Mayflower," a Junie B. Jones story and biographies of artist Frida Kahlo and baseball player Albert Pujols.
You have free articles remaining.
Beyond the Books chose the project for funding because of its innovation and community involvement, said the group's Vickie Robertson. "It's one of our goals to get parents involved," she said. "It's great how this got people involved."
The Spanish and bilingual books include a mix of grade-appropriate fiction and nonfiction chapter and picture books and graphic novels.
Isaiah, for instance, likes the graphic novels. Karol likes picture books, where she also learns about colors and numbers, Jacqueline Marquez said. Reading helps both children use their imagination in play, she said.
It was important to have the event on a weekend so students and families could concentrate on the importance of books and spend time together, said Karen Riccio, the school's library media specialist who wrote the grant request. "It gives a sense of community," she said, as families spread out along cafeteria tables to eat pozole (a special-occasion chicken and hominy stew), tamales, Mexican pastries and agua de Jamaica, a hibiscus-flavored drink.
Marquez said her daughter was very excited when she learned about the book-tasting. "The lady for the library got a lot of new books for my school," she told Jacqueline.