NORMAL — Students at Calvary Christian Academy in Normal have gone seven months without playground equipment after an accidental fire set theirs ablaze.
Before January, students at Shalom Community School in Mugona South outside Bugiri, Uganda, had never seen playground equipment.
As a schoolwide Christmas project, the Calvary students resolved to help these students living 8,000 miles away and started a coin drive to raise money to buy playground equipment such as a slide, swing set and merry-go-round for the school.
"I am not surprised that our students were motivated by their own adversity to help a group of students they've never met nor likely will ever meet — these kids are the greatest," said Aaron Whisler, principal at Calvary Christian Academy in Normal.
Because of the fire over the summer, the new Calvary playground won't be ready until April.
Each day the students were challenged to bring in a different coin — pennies on Monday, nickels on Tuesday and so on. They filled jars in every classroom and reached $1,210 at the end of the weeklong effort.
The original plan was to buy three pieces for the playground, but Rus Kinzinger, founder of Upwards Uganda, said the Calvary students exceeded his expectations and were "like flies to honey" pushing to raise as much money as they could.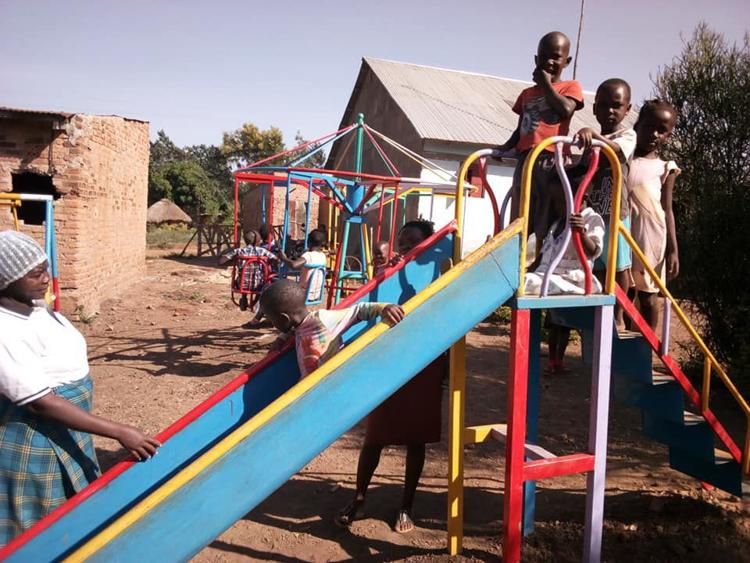 With their donation, the students at Shalom now have four new pieces of playground equipment installed.
The Ugandan kids were so excited to try out their new playground, they were racing down the slide before everything was even cemented into the ground, Kinzinger said.
Once the equipment was properly installed, the students were a little intimidated and clung tight to the handles as they played because, as Kinzinger said, "it's all very strange for them."
You have free articles remaining.
"It seems almost like they're afraid as they are sitting there on the playground stuff," he said.
Shalom Community School is in a very poor, rural area in southeast Uganda, just north of Lake Victoria. Many of the students are orphans or come from families who can't afford to send their children to school all year, Kinzinger says.
"The need is huge," he said. "I thought it was just exceptional for kids in our area to understand the need in other parts of the world."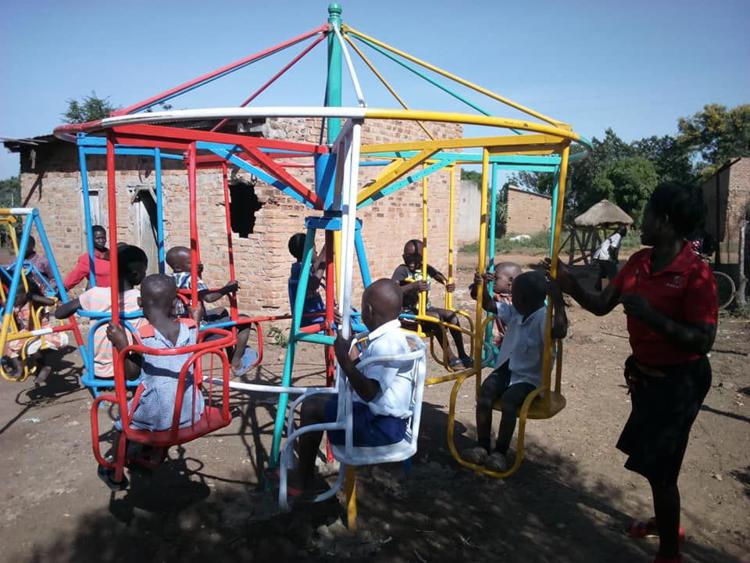 Upwards Uganda raises money to meet other needs as well, but Kinzinger said playground equipment is an important part of childhood education and helped the Calvary student relate to those at Shalom.
"It was interesting for us to hear how something as simple as clean water and a playground could make such a big difference," Whisler said, noting how easy it could be to take these things for granted.
Whisler and Kinzinger are hoping to work together on more fundraising projects in the future, including expanding the organization's well drilling or helping widows in need.
"I think it's been really exciting to learn about the Upwards Uganda ministry. It seems like they're doing a lot of good," Whisler said.
"I am convinced that this meaningful act of giving unselfishly will not only shape the kids of Mugona South in a positive way, it will also make a lifelong impact on students at our school," he said. 
---
Photos: School in Uganda gets play time