NORMAL — The United States is moving backward when it comes to race in society, the former president of South Africa who oversaw the end of apartheid warned in an appearance at Illinois State University on Tuesday.
However, "as an outsider, I observe that race has become again a great issue here in the United States of America, which I find sad," said de Klerk. "It would be a pity if you fall into the same trap again."
When asked how to address that, he expressed a reluctance "to judge a government in a country I visit," but he said, "America should go back to its good history of ending discrimination and fighting racism."
He said democracy is in danger in countries worldwide and leadership is needed to protect it.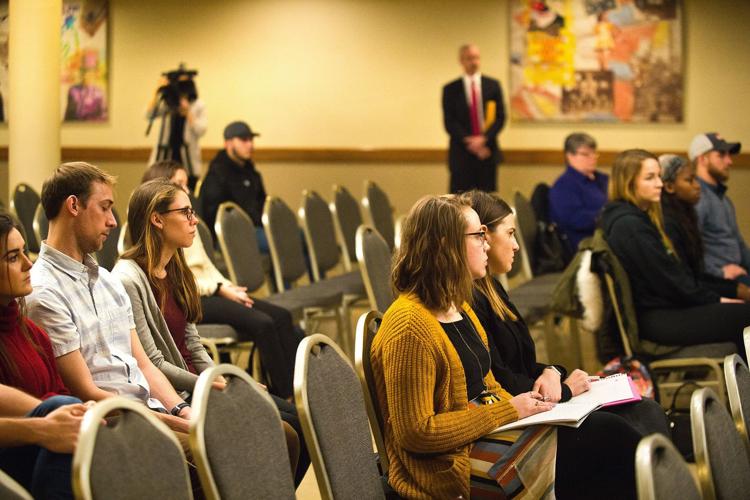 "The populists and the hard-line nationalists are, to my mind, threatening democracy," said de Klerk during a question-and-answer session in Bone Student Center preceding an evening talk on "Bridging the Gap: Globalization Without Isolation."
De Klerk said, "The great lesson we learned is that you cannot achieve a peaceful transition … without the leading figures in the society … sitting around the table and, in a process of give and take, negotiating a new deal."
De Klerk said the U.S. Constitution was written in a way that was intended not to centralize power in one branch of government. He said that shared power "presupposes a need for negotiation" where the needs of the country take priority over partisan concerns.
"America has a wonderful history of bipartisan solutions for serious challenges," he said, and "if it doesn't take place, I blame it on the leadership," not just the president but the leaders in Congress as well.
Earlier in his remarks, he said a true leader's job is "not to watch the polls and give the people what they want" but to "have a true vision" and "an action plan to get the people to support them."
De Klerk said the world faces three major challenges: a lack of diversity, poverty and climate change.
He said diversity in race, ethnicity and religion should be accommodated.
Poverty should be addressed through economic development, education and "the haves reaching out to the have-nots" with jobs "not by mere handouts," he said.