NORMAL — A lot has changed since the Gay People's Alliance was formed at Illinois State University 50 years ago — the same year the Stonewall uprising in New York helped trigger the gay rights movement.
Even the name has changed, first to Gay and Lesbian Alliance, later to Pride at ISU.
When Barb Dallinger, who later became adviser to the group, was a student at ISU in 1978, she didn't even know it existed.
"It was very underground," she said.
As Mark Vegter, another former adviser, put it, "You had to know someone who knew someone who knew someone" to learn about the group.
So Dallinger, who now is associate director for event services and catering at ISU, didn't know where to turn when she was a student and people threw food at her or harassed her in the elevator of her residence hall for being a lesbian. Dallinger said that once, while she was a student, she was tied to a chair and locked in a room until a gay friend came in and freed her.
"Today, the campus climate is very different," said Vegter, who was also a member of the group as a student in the late 1980s and early 1990s.
"There are still pockets of discrimination, but it's not so blatant," said Vegter.
Where once faculty and administrators would walk behind members of the Gay People's Alliance and tear down fliers advertising events, today a thousand people will show up for a drag show fundraiser, said Vegter, an adviser in the English department.
There are organized activities, such as the upcoming Queertober and Coming Out Day, that are advertised by the university. The club is a registered student organization that receives funding.
Emily Patterson, a junior in elementary education from Wood Dale, is the current president of Pride at ISU. 
"I still see the organization providing a safe space for LGBTQ+ folks and also a space for advocacy," said Patterson.
She said the campus in general has an accepting atmosphere but there is room for improvement.
You have free articles remaining.
"We need more gender neutral bathrooms," said Patterson. "There are professors who are insensitive to pronoun changes and name changes. And there are folks who get randomly harassed."
The community has changed, too, with Bloomington and Normal each adding sexual orientation to the protected classes in their non-discrimination ordinances before the state of Illinois did, noted Vegter.
"People don't realize how much that means," she said.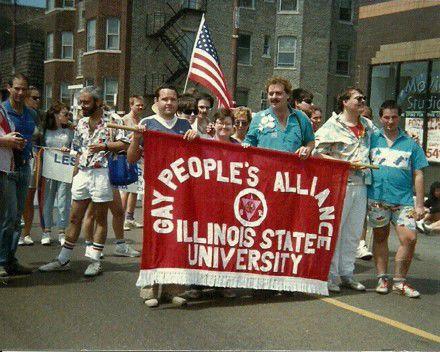 But, despite the advances, a group such as Pride at ISU remains relevant, all three agreed.
"The mission has changed over the years, but it's definitely still needed," said Dallinger.
When Dallinger became the club's adviser in 1994, it was primarily a "coming out" organization for people figuring out who they were and how to tell others, she said. "It's still how we meet and find each other."
Pride is also crucial in educating the general public about gay issues, said Vegter.
"This generation of students, regardless of orientation, is actually more isolated because of all the internet," said Vegter. 
Despite changes in society, LGBT students still face obstacles, sometimes within their own families.
Dallinger is on the LGBTQ+ Support Fund Committee, which provides emergency assistance to students who lost family financial support because of their sexual orientation or gender identity. She said the committee has received eight requests for assistance so far this semester, including a student who was thrown out of her house with just the clothes on her back.
"One thing we as faculty and staff can do is mentor them," said Dallinger. "They need to see they can have a happy life and be successful."