A CULTURE OF CHANGE
Going green: Schools save money, teach kids life lessons
Solar panels, recycling and reusing help promote sustainability
BLOOMINGTON — For several local school districts, leaving a small footprint on the planet is just as important as leaving a positive impression on students.
Districts including Bloomington District 87, Stanford-based Olympia and McLean County Unit 5 are increasing their green initiatives at school buildings by reducing waste and conserving energy — and cutting expense at the same time.
"When you have a big operation like a school putting out a lot of waste, you have to think about your responsibility and the carbon footprint that could have. We also want to educate students to create a culture change," said Julie McCoy, District 87 school nutrition director.
"These are really significant efforts and it's great to see these districts setting an example and showing the way. All sectors need to look at adopting more practices like this. It makes a big impact overall," said Brown.
Finding energy efficiencies
District 87 received the 2017 Governor's Sustainability Award for its many green efforts, including upgrades to heating, ventilation and air conditioning (HVAC) equipment, controls and lighting across the district to more efficient models.
"We expect to generate a cost avoidance of approximately $400,000 annually in electricity and natural gas savings," said Colin Manahan, D-87 director of facilities.
Officials also expect the upgrades to reduce greenhouse gas emissions by more than 40 percent across the district.
"As an organization, the award confirms we're doing the right things in our community via our carbon footprint and it sends a message to our stakeholders that these things matter. This isn't about dollars and cents, it's about better habits and a new way of doing things," said Manahan.
Unit 5 also is completing several energy efficiency projects throughout the Normal-based district to cut utility bills.
By installing geothermal heating and cooling systems at many schools, Unit 5 will save more than $100,000 each year per site. 
"The goal was to get our energy consumption under control," said Joe Adelman, Unit 5 director of operations.
New HVAC equipment, roof replacements, plumbing upgrades and LED lighting at nearly every building are upgrades that will last decades, said Adelman.
"Making sustainable changes is important, but so is running our buildings efficiently and using taxpayer money very wisely," he added. "We want it to be a win-win solution for everybody."
Cutting cafeteria waste
No longer do District 87 students dump leftovers, unopened items, plastic utensils and trays into the garbage at lunch. More than half of the schools have a new waste system in the cafeterias.
Any unopened food items from student's trays are donated to local food pantries.
Midwest Fiber picks up the single-stream food waste and delivers it to a facility in Bartonville to compost.
The district also made the switch from disposable lunch trays and utensils to reusable ones, a savings of $10,000 each year.
The changes have quickly become routine for kitchen staff and students, said Karen Bays, food service worker at Washington Elementary School.
"There's less in the landfill and the compost is used to grow more food. This teaches children and they can see how much of their food is pitched and where it goes when they're done with it," she said.
McCoy said the district is phasing in the waste program at all school cafeterias.
"It's a life skill; teaching kids how to properly dispose of their waste. We're hoping to build this into orientation so when kids start school, we put some emphasis on what we want garbage disposal to look like," she said.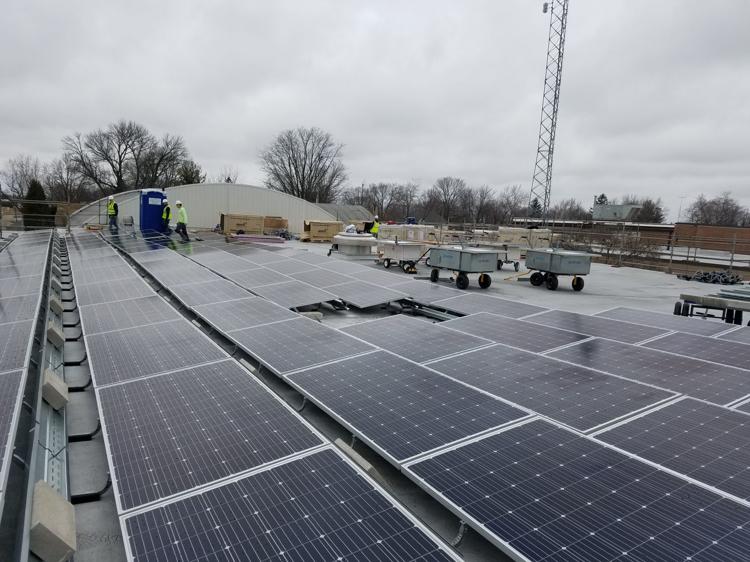 Solar power
The district is working with energy contractor Ameresco to install 4,200 solar panels on the roofs of the four school buildings in rural Stanford, Danvers, Minier and Atlanta.
Energy generated by the panels is expected to power more than half of the district. It takes three panels to power a single classroom.
Planned to be completed by May, the project cost is nearly $4 million, but the district received production grants totaling $600,000 over the first five years in the form of rebates.
"The $4 million is financed through a federally subsidized loan, paid back exclusively by savings in utility costs over 15 years," said Josh Olsen, assistant superintendent.
The solar energy will cut district utility bills by more than $250,000 each year. After the loan is paid off, the district expects to collect more than $4 million in savings.
"Money savings for a tax-based organization is important, but energy conservation and clean energy use is what we're striving for," said Olsen.
Follow Julia Evelsizer on Twitter: @pg_evelsizer