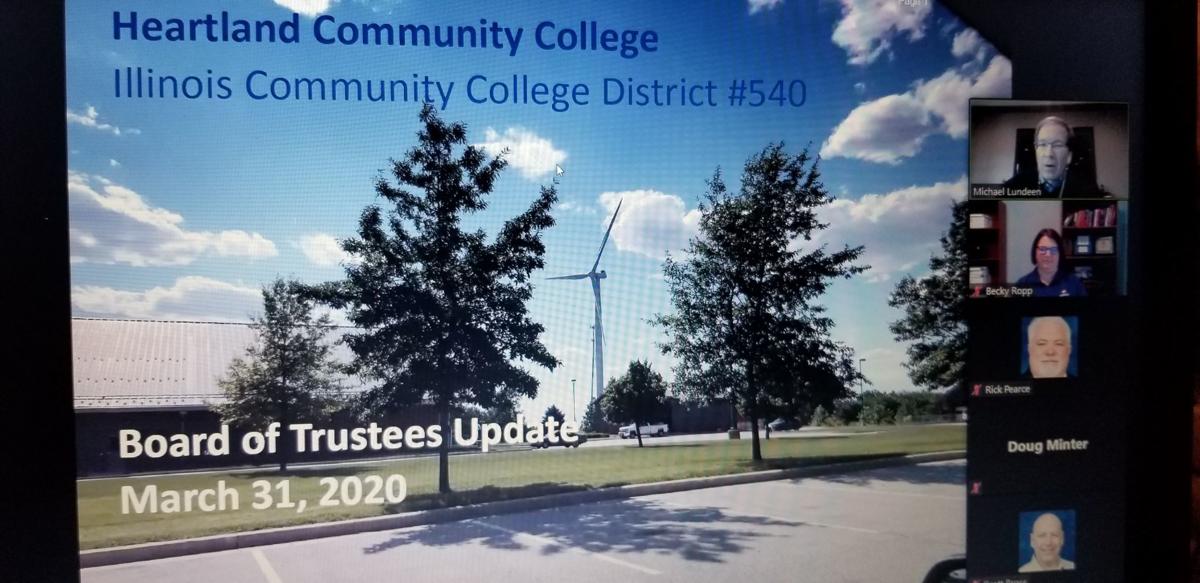 NORMAL — A possible agricultural program complex and revision of existing spaces to better meet future needs are among things under consideration in a master facilities plan being developed for Heartland Community College.
Currently, Heartland teaches agriculture classes geared toward transfer programs, but it is considering such areas as agriculture technology and precision agriculture, such as use of GPS technology in farming.
In a presentation to the Heartland board on Tuesday night, Michael Lundeen of Legat Architects said the campus has underused classroom spaces that could be retrofitted.
"It means you have a lot of flexibility" and "spaces to grow into," Lundeen told the board.
Heartland already took that step when it converted three regular classrooms into a health sciences lab, noted Rick Pearce, provost and vice president for academic affairs.
The board met virtually through the Zoom videoconferencing platform instead of in person because of the coronavirus pandemic and guidelines to limit personal contact.
The pandemic came up at several points in the meeting.
No commencement
Cornille said the administration is working to develop "a virtual type ceremony … to make it as special as we possibly can for them." Graduates also will be invited to participate in next year's commencement, he said.
"This is a transition that none of us wanted but it is our reality today," Cornille said after the meeting. A decision on summer classes is expected to be announced Wednesday, he said.
The COVID-19 pandemic is also having an impact on the facilities planning process.
Cornille said the next meeting of the committee working on the master plan is scheduled for April 10 and "we've asked the committee to go back and see what the current situation has done that may change the plan."
In deciding where the college should place its focus, board member Becky Ropp said, "Look at the industries that have been deemed essential in the last month" — agriculture, public safety and health sciences.
Among other priorities under consideration in the master plan are career technical education improvements, an area where the college is placing increasing emphasis.
On Tuesday, the board approved three new "micro-certificate" programs in business technology, industrial technology and computer network technology. All three are designed to be "stackable" credits. That means they provide opportunities for immediate employment but also can be stacked with other classes leading toward more advanced certificates or associate degrees.
Included in the industrial technology program are a four-credit-hour course in high voltage battery technology and a four-credit-hour course for robotic operators. Both were designed with electric vehicle manufacturer Rivian in mind, but they also would have broad interest to other employers, said Cornille.
Contact Lenore Sobota at (309) 820-3240. Follow her on Twitter: @Pg_Sobota
Concerned about COVID-19?
Sign up now to get the most recent coronavirus headlines and other important local and national news sent to your email inbox daily.