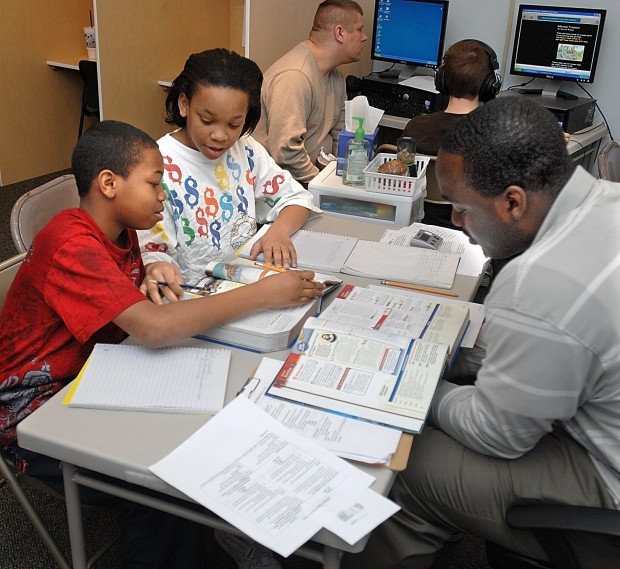 Josh Sterrett wondered where he would go when the Occupational Development Center closed.
Tamara Quinn attended school only a few hours a day — and not every day. Cam Wilken got so agitated in junior high that he'd run outside near a busy street.
Now, Sterrett, 20, is both a student and a paid helper at High Road School, 814 Jersey Ave., Normal, where Wilken, 13, sometimes relaxes by playing piano and Quinn, 16, has perfect attendance and hopes to graduate this spring.
"She's a worker," said director JoAnn Ziegler, whose school caters to students with learning, language, social and behavioral challenges. Most of the students have multiple disabilities.
High Road is part of Pennsylvania-based Specialized Education Services Inc. The local school, which marked its one-year anniversary Tuesday, is funded by the state and through tuition paid by districts whose students are enrolled.
High Road has 21 schools nationwide. The local school is the only one in Illinois and would take students from any district in the state. Current students are from District 87, Unit 5 and Olympia.
"They've offered us a new remedy for students," said Unit 5 Superintendent Gary Niehaus. "It's an option we'll try to keep."
The idea is similar to districts supporting the Bloomington Area Career Center instead of each district duplicating programs, resources and costs, said Olympia Superintendent Brad Hutchison.
At High Road, 17 people work with 18 students in grades junior high through high school. Staff includes three certified teachers, two teaching assistants, seven paraprofessionals, a director, activities coordinator, social worker, administrative assistant and vocation coordinator. The school contracts out occupational, physical and speech therapy through Easter Seals.
Ziegler said the goal is to help students get back into public schools.
Olympia, for instance, had been looking for an option to help students with special needs. The district paid $6,000 in tuition for one student; 80 percent of that is reimbursed by the state.
"If we didn't have High Road and Hammitt schools we would probably have to look at residential placement for some of these students. They would have to leave their parents and live in other facilities," said Chuck Hartseil, Unit 5's director of special education.
District 87 chief financial officer David Wood said the per-student daily rate varies from $199 to $377 depending on student needs. "That sounds really expensive, and it is, but it's a program we can't really do ourselves," Wood said.
Added District 87 Superintendent Bob Nielsen, "I'm very pleased with the programs and services they provide. It is nice to know it's there."
High Road's course offerings are in sync with state and local requirements, and the idea is to eliminate obstacles.
Staff members may take a student with attendance problems to a doctor's appointment and bring him back to class. They also provide strong security, personal connections with students, and supervise places for students to regroup when the day gets unmanageable.
"As parents, we want our children to be positive, contributing members of society," said Phil Carr of Hudson, whose son Jordan attends the school. "Every single person at this school deeply cares for children. They really find out what works for each child."
Students earn money for meeting behavioral expectations. The rewards are a financial management tool but can be used for savings or for purchases, Ziegler said.
For Sterrett, High Road is a place to prepare for college and to offer his own experience as a teacher's assistant. He wants to be a veterinarian.
Quinn, who volunteers at Westminster Village retirement community, wants to become a certified nursing assistant, said teacher Holly Armstrong. Other students have been inspired by volunteering with Habitat for Humanity or taking culinary training.
"Everyone in this school cares about everyone else," said Wilken, who has Asperger syndrome, a form of autism. "That's the best thing about this school."