BLOOMINGTON — Chalk drawings of planets outside of Buck Memorial Library at Illinois Wesleyan University, with names such as "Mercure" and "Terre" written next to them, are the first clues that something different is going on.
Inside, youngsters in one classroom work on an art project of "systeme solaire" — the solar system — while on the other side of the hall, another group of children listen to a story about "cielo nocturno" — the night sky — and recite the colors of stars: "blanco, azul, rojo y amarillo."
It's all part of a summer mini-camp language school at IWU, where children are learning French or Spanish language and culture through music, art and games.
The IWU Language School for Kids was started in 2015 through an IWU Donnocker Program Innovation Grant and is an initiative of the Language Resource Center. It includes a weekly 1½-hour Saturday school in fall and spring plus the five-day mini-camp going on this week.
Tony Williams of Normal said his 9-year-old daughter Isabella has been taking the French class for two years.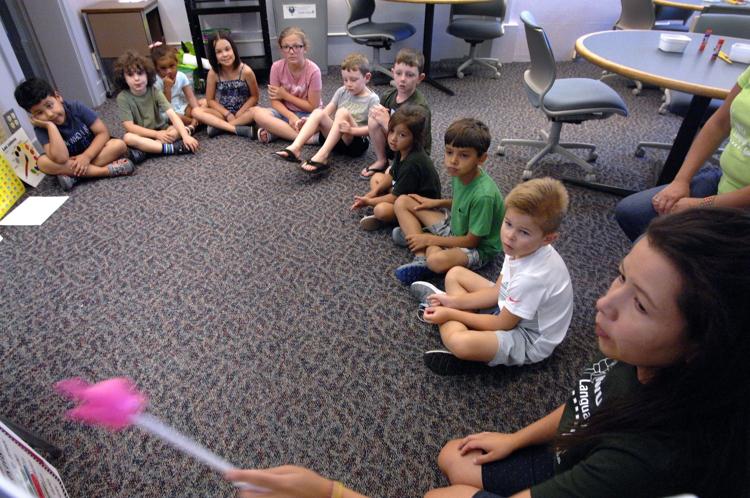 "She got interested because she was doing ballet and there were lots of French words," said Williams. "She's really interested in learning all kinds of stuff."
Isabella is even trying to teach French to her father.
Kimberly Burgess of Bloomington has a son, Josiah, in the Spanish class. The 5-year-old is so interested in languages, he sometimes switches the languages on her phone or TV, she said.
"He can count and say his colors," said Burgess.
The fact that teachers are using the solar system as a basis for lessons is an extra bonus.
"He's really excited about space," Burgess said of her son.
There are 28 children in the school. Fifteen are learning French and 13 are learning Spanish. The school accepts students who are age 3½-through-fifth grade.
"We know the kids are not going to become fluent during a one-week class," said Brown-Ajayi. "But it gives them an ear for it … and they have a positive relationship with learning a new language."
Burgess said she intends to bring her son back in the fall for the Saturday school.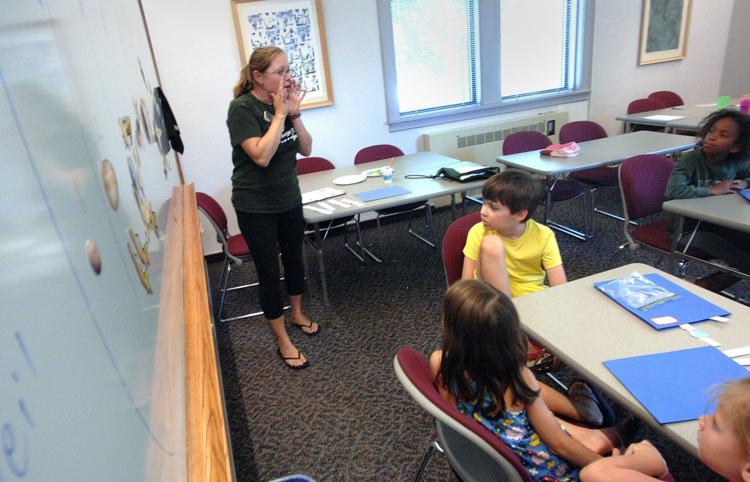 Rocio Morales of Bloomington, who formerly taught at IWU and was involved in starting the language school, said she is delighted to see it continuing.
Among the school's goals are creating awareness about the importance of early language proficiency, introducing children to language learning and promoting cross-cultural awareness and sensitivity.