NORMAL — Growing up as cousins whose mothers both were nurses, Maddie and Betsy Olson saw the long hours, stress and challenges that come with being a nurse.
They chose to be nurses anyway.
"We grew up with the stories," said Maddie. They saw the hard work, but also saw the satisfaction their mothers had in knowing they made a difference in someone's life.
"You're so invested in your patient" as a nurse, said Maddie. "To have such a critical role in that is so special."
Although the work is hard, "it's worth it," added Betsy. "It's a very giving profession."
When they receive their bachelor's degrees on Friday at Illinois State University, they won't just be following in the footsteps of their mothers — they will be following in the footsteps of other relatives in the field, too.
In fact, their mothers met at the Mennonite College of Nursing nearly 40 years ago — although it was not part of ISU at the time. A group of us always studied together," said Dianne "Dee" Duty of Springfield, Maddie's mother. Duty and Anne McShane of Broadwell, Betsy's mother, went on to marry brothers.
Once they pass their National Council Licensure Examination, Maddie and Betsy will be heading to work at the same hospital on the same floor: the night shift at Springfield Memorial Hospital's Neurological Intensive Care Unit.
"What are the odds?" asked Duty.
What are the odds, indeed.
The university has received an average of 1,600 freshman applications each year for the past four years for its traditional pre-licensure nursing program, but only has the capacity to admit one in four applicants.
Betsy called it "a happy accident" that their mothers and the two of them all wound up at Mennonite College of Nursing.
Duty knows what it's like to follow in another's footsteps and wasn't surprised by her daughter's decision to become a nurse.
"It kind of was in her blood. She's been around it so much," said Duty, noting that, "My mom was a nurse. My sister was a nurse."
When she was about 12, Maddie went with her mother on a "Take Your Daughter to Work Day," which helped solidify her choice of a career in health care.
Coming from families with others in the nursing profession, "there's a lot of pressure on us to do well," acknowledged Maddie.
Betsy agreed: "They expect that from us." To which Maddie added, "We expect it from ourselves."
When they started college together, "it was nice to have a familiar face," especially in large classes, said Maddie.
But they saw less of each other in class as they got into their nursing courses, especially their clinical experiences.
Having two students with the same last name and similar hairstyles and color in the same clinic courses where everyone is wearing the same white coats could have been a bit confusing.
Betsy said, "Growing up knowing nurses was helpful."
Maddie said the stories her mother told her about real-life experiences helped her to learn.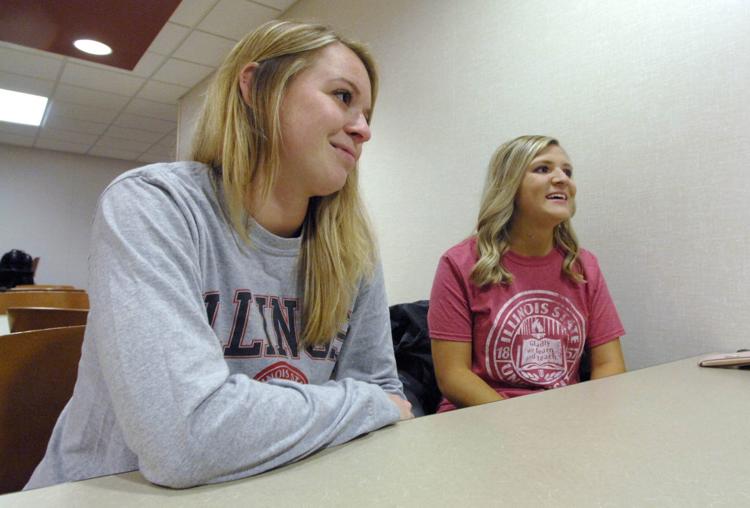 One of the challenges of nursing school was "learning to juggle so many things at once," said Betsy, but "that just prepared us to be nurses."
Betsy said, "My mom's advice was to take things seriously, of course, but always take time for yourself."
Both are excited to start working at the hospital.
"You learn so much on the floor as nurses," said Betsy. "I'm excited to be on the (neurological) floor and have these experienced nurses on the floor to help me in this next step in my life."