NORMAL — More than 260 people marched around the Illinois State University quad over the noon hour Monday to protest what they described as unfair, discriminatory treatment of black students on campus.
Chanting "This fake diversity has got to go," marchers walked around the quad to Hovey Hall, the university's administration building. Speakers claimed that ISU does not live up to its core value of diversity.
Most of the crowd consisted of black students but there also were white students, faculty, staff and former students showing their support.
The protest, organized by the Black Homecoming Committee, was triggered by cancellation of an event the group was planning for homecoming weekend at Redbird Arena because of a conflict with a volleyball practice, according to a tweet by the committee.
The president of the student body did not respond to an email request for an interview but the Illinois Student Government Association said in a tweet, "We are very disappointed in the treatment of the BHC by the prioritization of athletics. Diversity is a core pillar that must be held to the same standards. Your voice is important and we will fight to ensure that your concerns and experiences are taken seriously!"
Levester Johnson, vice president for student affairs, said the university is still trying to pull together a timeline of what led up to the Black Homecoming Committee event being canceled.
He said Dean of Students John Davenport attended the rally and spoke with some of the students afterward.
Several black student groups planned a meeting Monday night and Johnson said the university will look into concerns forwarded to them after Monday night's meeting and concerns expressed during the rally.
Among demands read from the steps of Hovey Hall were having more transparency about policies for hosting events, applying the same security requirements for all events, having a task force look into concerns of students of color and requiring tenured professors to be subject to ongoing racial sensitivity training.
One speaker from the Black Homecoming Committee, who declined to give his name, said black student organizations have been required to have metal detectors at after-hour events and white organizations haven't.
You have free articles remaining.
"If that doesn't scream discrimination, I don't know what does," he said.
But ISU said Police Chief Aaron Woodruff said the Bone Student Center policy applies to all late-night events and was instituted after a shooting in the 1990s.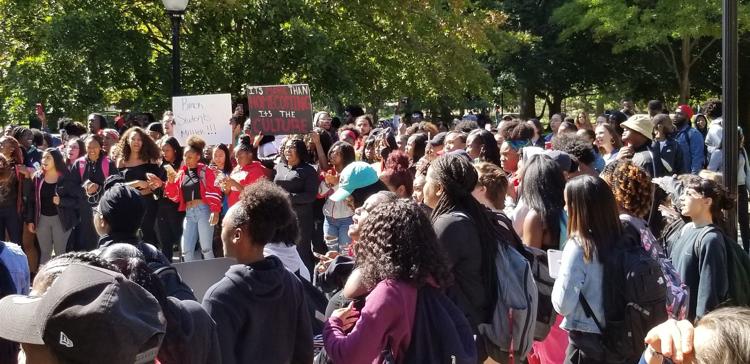 Other times when such security is needed are when it's required by the performer's contract or by an insurance policy for non-sponsored student organizations, he said.
Genesis Robinson, the Black Student Union representative on the Student Government Association, said, "I don't like being used as a token."
"We continue to have work to do," he said.
But Isaac Hollis of the Black Homecoming Committee, addressing the initial rally on Schroeder Plaza, said it's not enough to create a multicultural center and expect student complaints to go away.