NORMAL — Illinois State University is seeking proposals for a public-private partnership to create new housing option on or near campus for up to 1,200 students.
On Friday, Levester Johnson, vice president for student affairs, said as part of a housing master plan process, it was determined that "missing from our portfolio … is suite-style housing that would be attractive to sophomores."
He said, "We believe we've got capacity for 800 to 1,200 additional beds."
Proposals for the partnership are due Jan. 29. Three finalists are expected to be selected in early February, said Johnson, whose responsibilities include overseeing University Housing Services. Proposals and presentations are due from the finalists the week of Feb. 25, according to the university's request for proposals.
ISU's plan is to have new residential facilities available for occupancy by Aug. 9, 2021.
Andy Netzer, general manager at Young America Realty, a major student apartment company, said, "The current market challenges to fill the off-campus housing supply have been well-reported by our local media, and many property owners will be concerned about ISU adding 1,200 more beds without a corresponding increase in enrollment."
About 6,000 of ISU's enrollment of about 20,000 students live in university-owned and operated housing facilities.
Sophomores are required to live on-campus, but they can obtain waivers under certain circumstances, including a lack of available housing on campus. Some sophomores with waivers are living in private student housing off campus.
No price tag and no location for the project has been determined at this time.
However, the description in the request for proposals states the development must be constructed on available land owned either by the university or the entity making the proposal, zoned for multiple residential living complexes and. preferably, be within one-half mile of the center of the ISU quad.
Suite or semi-suite type student housing could include two double rooms with a shared bathroom between them or rooms that open into a shared living room or small kitchenette, Johnson said.
"After a year, sophomores are looking for a little bit more independence and a little more amenities," said Johnson.
Other institutions are providing these environments, added Johnson, and ISU wants to "keep up with best practices" as it competes for students.
In addition, he said, "We're looking at expanding our living and learning communities," which group together students with similar interests or fields of study.
Johnson said he has been told interest in the project is "relatively high," but he did not know how many potential partners participated in Friday's conference call for those considering making a proposal.
Asked about the tight time frame to have new housing ready for occupancy for fall semester 2021, Johnson said that's why the ISU wanted to partner with a private entity with experience in such developments to complete the project more quickly.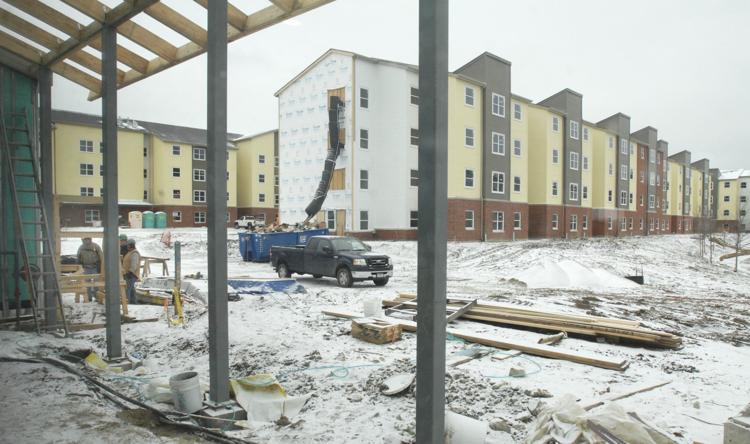 The planned new project also calls for a possible inclusion of an option for the university to take over ownership after a stated period of time.