NORMAL — Like the swallows returning to Capistrano, the Redbirds are flocking back to Illinois State University this week.
While some apartment dwellers are already moving in, the bulk of about 6,250 students who live on campus will move in Wednesday and Thursday at Hewett, Manchester, Watterson, Wright, Wilkins and Haynie halls.
Temporary changes in traffic patterns, including some street closures, will be in effect from Monday through Friday.
North Street will be one-way east from School Street to Fell Avenue; Fell Avenue will be one-way south from Mulberry Street to College Avenue and only move-in traffic will be allowed; Fell Avenue will be closed between College Avenue and North Street; and Fell Avenue will be closed for all northbound traffic.
Stacey Mwilambwe, director of university housing services, said, "We try to get them to pare down what they're bringing."
"The rooms aren't that big," said Mwilambwe.
Nevertheless, many students will bring a whole semester's worth of clothes and, no matter how much they bring, certain stores are likely to be more crowded than usual through next weekend.
"A trend that we've seen … is more and more students are having things mailed to them" from places such as Amazon and elsewhere, even basics like toothpaste that they could buy locally, said Mwilambwe.
As a result, the university has had to expand its mailroom space and add shelving.
Kevin Goffard, service area coordinator for Tri-Towers at ISU, said, "The package numbers have really skyrocketed in recent years."
Tri-Towers saw 15,000 packages delivered in the 2018-19 academic year and project that 17,000 packages will be delivered in the 2019-20 academic year. Campus-wide, about 80,000 packages are delivered in a year.
"The students order stuff online and parents are always sending packages as well," said Goffard.
Express deliveries are logged into computers and an email is sent to the student's email account.
"Same-day delivery is our goal," said Goffard. "We deliver everything from furniture to refrigerators and everything in between."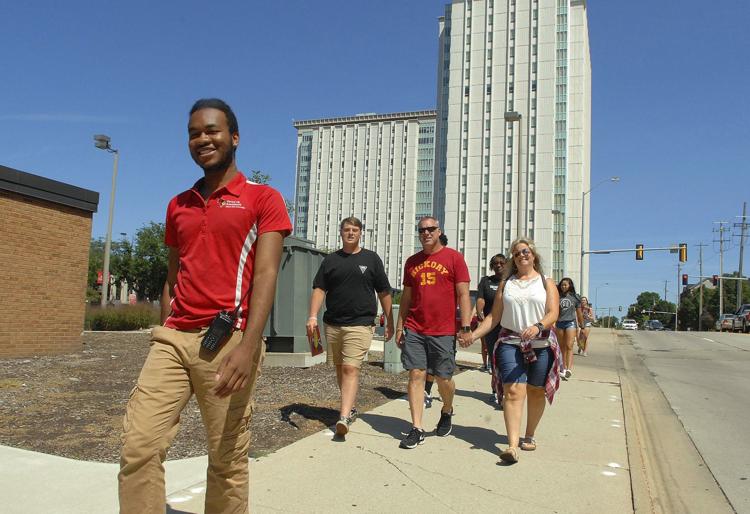 For many of those new students, it will be their first time away from home and "most of our students have never shared a room before," said Mwilambwe.
Conflicts will arise, she said. "It's human nature."
But the university uses an algorithm to try to match student roommates with similar habits, asking questions about how outgoing they are, how involved they plan to be, how organized they like to keep their surroundings and where they plan to do most of their studying.
There is also a roommate bill of rights in which they agree on such things as when guests are appropriate, when lights should be turned off and how early to run the hair dryer. If there's a conflict, they go back to what was agreed to.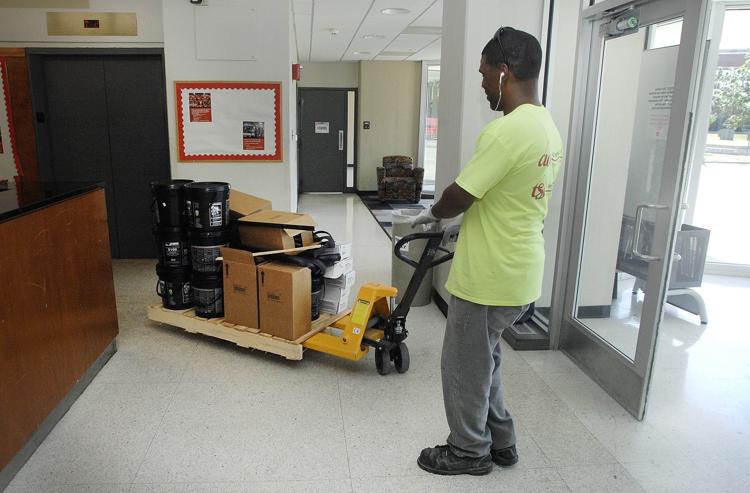 That may sound a little like Sheldon's roommate agreement on "The Big Bang Theory," but Mwilambwe said, "It's a tool. … It's a little more balanced than Sheldon's."
As both a housing director and a parent of college students, Mwilambwe has advice for parents on dealing with having their children away at college.
"Give them some room to go. … You become the coach," said Mwilambwe. If a problem arises, "ask, 'What options have you considered?' rather than saying do this or do that. This is how they learn critical thinking."
David Proeber contributed to this story.
---