Theune was one of about two dozen people who gathered Sunday at the English House on the IWU campus to share memories about the house, built in 1911, that has been home to the university's English department for more than four decades.
"It's not the saintliest of all places, but it's home to a lot of greatness," he said. "For me, what's at core here is a kind of quirkiness. This house has it's oddness and strangeness, and it encourages uncommon interactions. It allows all sorts of different conversations to take place."
The house will always be a part of the identity of English majors at Wesleyan, said English professor Jim Plath.
"In the best novels, it seems like when the main characters say farewell to something, it is always winter," he said. "Well, Mother Nature must have sensed that as well and sent us some snow to make it appropriate for this event. It is just kind of a perfect way for everybody to say goodbye and celebrate what we had here."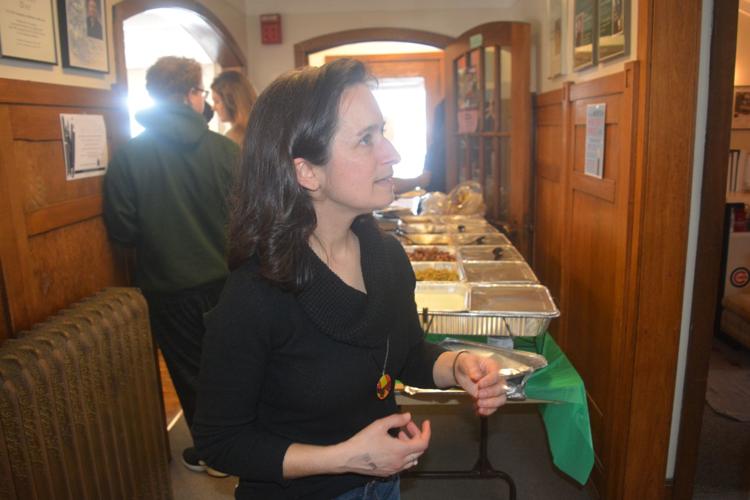 Joanne Diaz, associate professor of English and department chair, said the house has a special sentimental value to everyone who spent any time there.
"This is the place where I became a professor," she said. "It's where I had conversations in the hallway with senior colleagues who taught me about everything. You would talk and meet with instructors five minutes before a class maybe, and come up with a new idea on how to teach something.
"It was always a friendly place and a community-oriented place."
Wes Chapman, an associate English professor, added that the house was built by Bloomington architect Arthur Pillsbury, who designed a number of other well-known buildings in the community.
The house features barrel ceilings in the downstairs hallway and a wraparound porch.
"We're not upset about leaving because we know we are going to be in a better place and have more room and things like that," he said. "But we are going to miss this place because it is very special and a lot of great memories were made here."
The house is in need of expensive repairs and would require upgrades to comply with the Americans with Disabilities Act. "Ongoing maintenance costs are prohibitive," Jensen said in announcing the closure.