BLOOMINGTON — Illinois Wesleyan University is offering a voluntary retirement incentive program, merging some academic departments and reducing visiting faculty positions as part of an effort to find $1.1 million in budget savings for fiscal year 2020.
The changes were announced during two "budget update" meetings on Tuesday and in a letter by President Eric Jensen to faculty and staff provided to The Pantagraph.
He wrote, "Today we are announcing a concerted series of actions and changes aimed at yielding $1.1 million in budget savings for the coming fiscal year."
Revenues and costs will be evaluated each year and adjustments will be made "until we reach our goal of a balanced and sustainable budget," the letter states.
In an interview Wednesday afternoon, Jensen said it could take "three, maybe four years" to reach that goal because the university wants to do so in a "thoughtful, controlled" manner.
"That's partly because, as they say in physics, the faster you heat something up the more energy it takes," he said.
The university's current budget is $72.1 million. It has 468 full-time faculty and staff.
The exact number of positions that will be lost won't be known until after the university sees who takes the retirement incentive and determines which positions will be filled. But Jensen said Wednesday there "probably" will be a decrease in the total number of employees.
"We try to be as efficient as possible and preserve the student experience," he said. "We're attractive to students because of our academic quality, residential experience and co-curricular activities."
The student-faculty ratio tends to fluctuate with enrollment and could be affected by cuts, but not much, said Jensen.
Adjustments in custodial service will result in elimination of five currently vacant positions.
The university also is looking at whether it can save costs by outsourcing certain departments, such as the bookstore, health services, wellness and publications, printing and mailing services, but no decisions have been announced.
In addition to cost-saving moves, the university also is looking at ways to increase revenue.
The university is expanding Esports by adding Fortnite by fall 2019, with a potential roster of eight to 10 students over the next few years and also adding women's bowling as an NCAA sport by fall 2020, with a potential final roster of 14 to 16.
The university also will partner with Learfield Licensing to generate revenue by requiring anyone producing products with IWU marks to get approval and pay royalties.
Both overall and new student enrollment were up in fall 2018. There were 1,693 students enrolled this fall compared to 1,649 in 2017. But as recently as 2015, IWU's enrollment was 1,842.
"We had a very large incoming class this fall and, although it's only March, early returns this year are very encouraging" for the fall 2019 semester, Jensen said in the interview.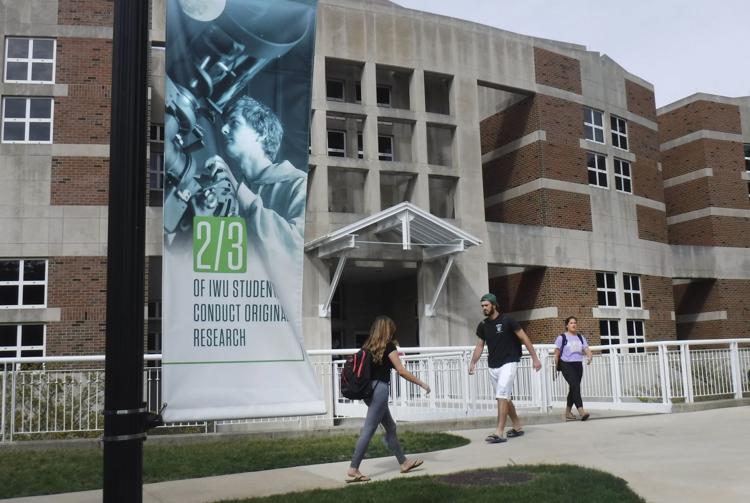 New student enrollment was up 30 percent with 540 in the incoming class in fall 2018.
In his letter, Jensen noted that Moody Investment Service "forecasts a negative outlook for the entire higher education sector and predicts the closing of 15 colleges and universities per year."
Jensen wrote, "These decisions are difficult, but cannot be avoided or delayed if we are to ensure the long-term health of Illinois Wesleyan."
However, Jensen elaborated on Wednesday, "We are in a really lucky positions of being a good school with a solid endowment. … We have an endowment that lets us weather the ups and downs like others can't," he said.
The university's endowment was valued at $203 million as of July 31. 
---
Photos: IWU Founders' Day Convocation