NORMAL — A warm atmosphere prevailed against chilly temperatures as about 50 people gathered Tuesday night to light a 10-foot-tall menorah in celebration of Hanukkah, the Jewish Festival of Lights, on the Illinois State University quad. 
"Then I asked for 70-degree temperatures and was told, 'Don't push your luck,'" he said, drawing laughter.
With chicken soup, latkes, doughnuts and festive music to help people keep warm, the temperatures in the upper 20s didn't seem to matter.
The holiday commemorates the rededication of the Second Temple in Jerusalem in 165 B.C. There was only enough oil to keep the temple menorah lit for one day, but it lasted for eight days.
ISU Police Chief Aaron Woodruff helped light the center candle, the "shamash," which is used to light the other candles — one each night after sundown.
Others in the crowd held small candles or glow sticks in celebration of the festival of lights.
Speaking of the symbolism of the Hanukkah candles, Telsner related the story of a woman in Germany in 1932 lighting a menorah in her window, its candles representing light and peace, while across the street a symbol of darkness, a Nazi flag, was displayed. The light prevailed over darkness, he said.
Repeating his message after that act of violence and hatred in Pittsburgh, Telsner said, "We're not going to fight darkness with darkness. We're going to fight with a little bit of light."
Nicole Greenstein, a junior in elementary education from Buffalo Grove, said the idea is to bring light to all of the world.
"It feels real good to see so many people come out," she said.
Freshman Gillian Teichman, an elementary education major from Lake Zurich, said she was happy to see the menorah on the quad.
"It's really nice to be represented," said Teichman. "We're just a small tribe. It good to know that ISU supports us."
This is the second year the menorah has been displayed on the quad.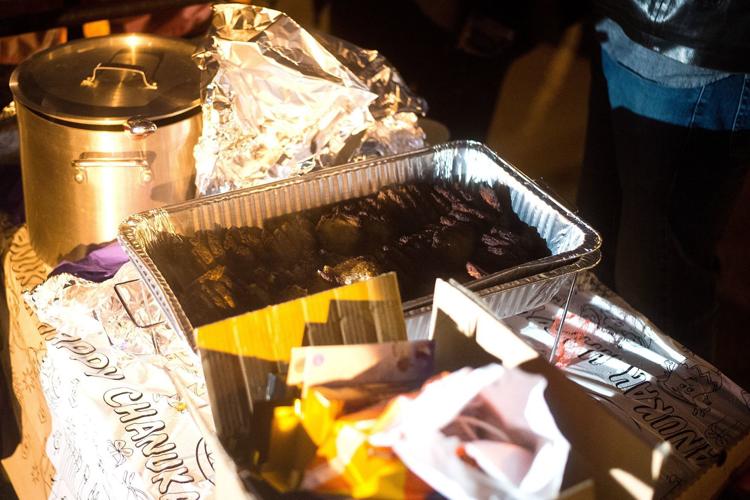 Blair Ernest, a junior in animal science from Chicago, said, "I'm not particularly religious, but the traditions and the community really matter to me."
Junior Ari Cohen of Deerfield, an accounting major who is treasurer of Chabad, said the group provides a safe and nurturing community for Jewish students at ISU.